These are examples of Guest Comments and Reviews which have been added on-line in 2019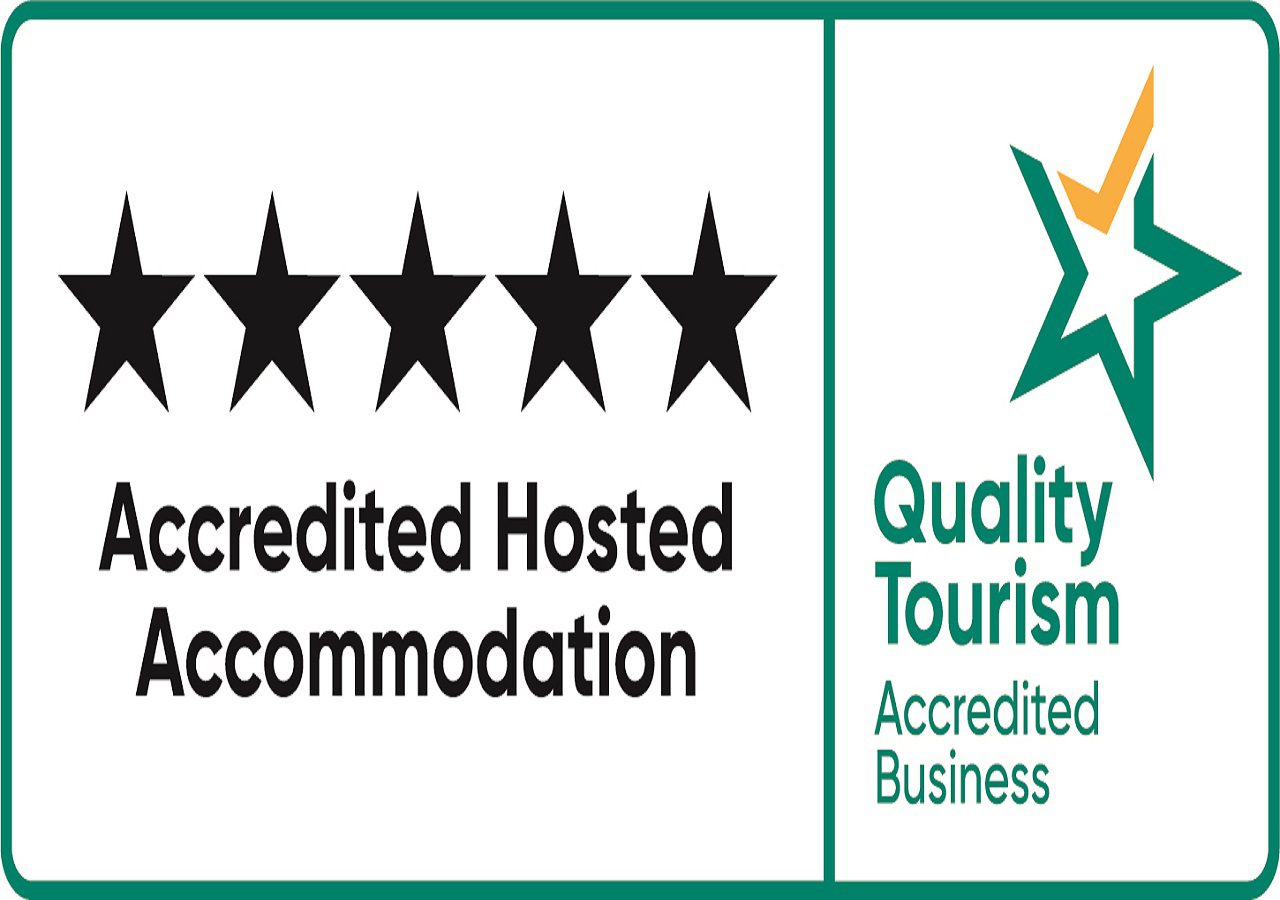 10/10: Bookingdotcom, December 2019: Will definitely be coming back for another stay. So sad it was only one night but definitely worth it. Warming welcome and lovely breakfast and peaceful surroundings. It was all amazing.
10/10: Bookingdotcom, November 2019: Wonderful hosts, beautiful peaceful location, the rooms and facilities were absolutely perfect
5/5: TripAdvisor,October 2019: Bed and Breakfast Gem in Sunshine Coast Australia. We were visiting Australia and wanted to go to Australia Zoo "Crocodile Hunter's Zoo". We found this B&B online quite nearby the Zoo and took a chance – what a great decision. Nestled in mountains in quaint Montville area in Sunshine Coast on 12 acres with nature conservancy and views to Pacific Ocean which is just 20 minutes drive away. Gourmet breakfast every morning by the warm gracious hosts, and we even had a fabulous gourmet dinner specially prepared for us after our day at the zoo – as good as any top tier restaurant we have been at anywhere in world ! Great hosts and gourmet cooks- fabulous!!!! Lots to see in the area but we were too chicken to rent a car there – took a tour on way to Australia Zoo which was less than 20 miles away. Scenery and views en route are beautiful with small interesting towns with restaurants and shops along the drive. Cannot recommend highly enough – everything it was said to be online and more.
10/10: Hotelsdotcom/Expedia, October 2019: Absolutely wonderful from first contact (providing information) to after checkout (we left something behind & Karin was kind enough to mail it to us). The welcoming atmosphere, beautifully appointed accommodations & fabulous culinary artistry made this a wonderful luxury B&B experience! Thank you Paul & Karin
5/5: Google My Business Page, October 2019: Karin & Paul really know how to make your stay peaceful. The room, the meals, the stay was amazing. We do regret only selecting the room option, for a little bit more money you get treated to a lot. Enjoy breakfast lunch or dinner overlooking the lovely rolling ranges of Hunchy / Montville. Wake up to only the sounds of birds and a gentle breeze. Enjoying looking up at a beautiful night sky, not washed out by city lights. A+, 10/10, 5 Stars.
5/5: Google My Business Page, October 2019: Absolutely magnificent! Could not recommended highly enough – a wonderful wonderful place to stay!
5/5: Facebook Page, September 2019: The hosts Paul and Karin are warm and friendly and offer a tranquil guest house with gourmet style breakfast and other meals cooked to perfection! Every detail has been catered for in the suite. We stayed here while undertaking training locally and can highly recommend it. Five star 🌟 all the way! Rachael and Stacey Equine Empowerment by Pure Empowerment Psychology: Large suites · Luxury bath products · Spacious rooms · Thoughtful amenities · Quiet rooms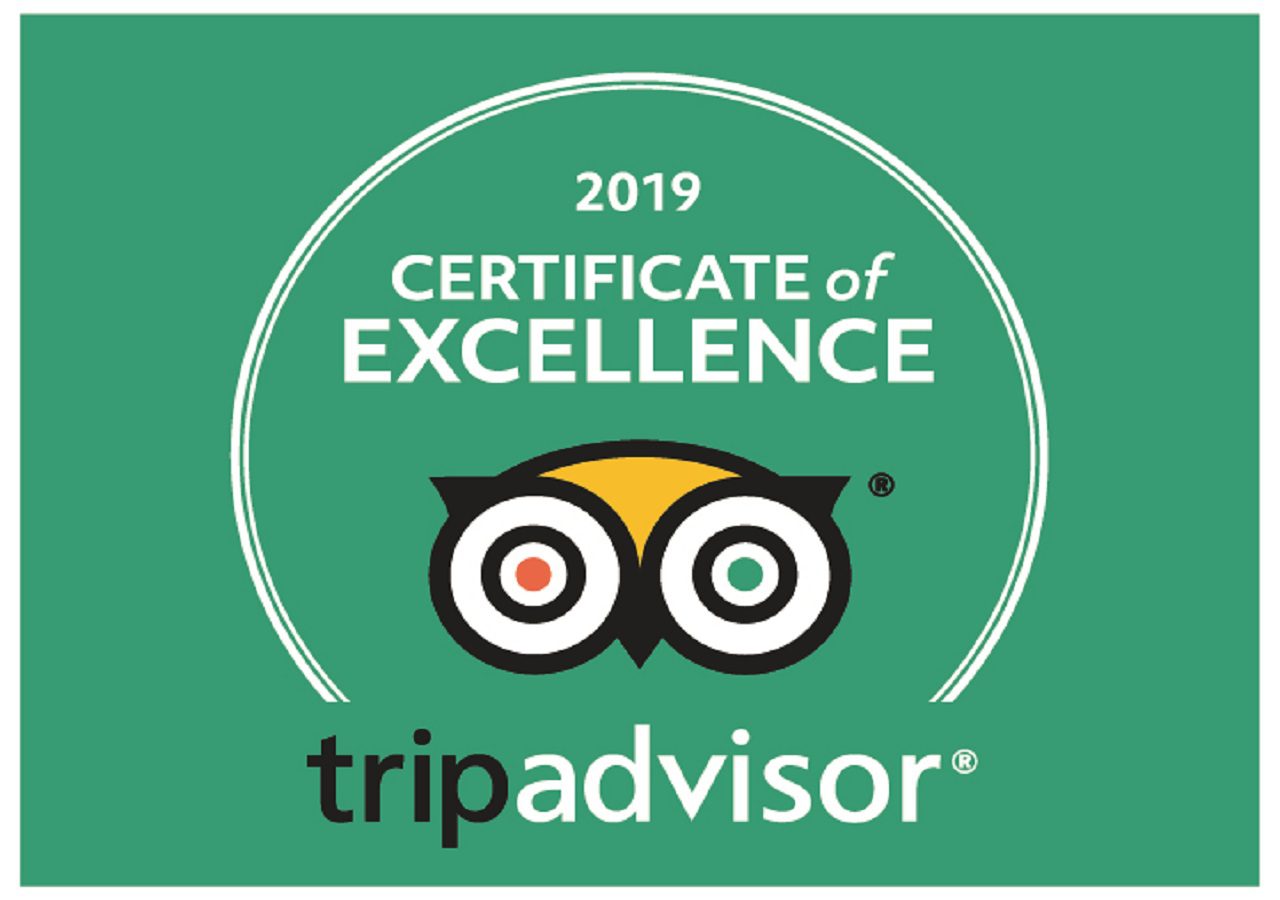 5/5: Google My Business Page, September 2019: This is a beautiful place to stay. The decor and attention to detail is amazing. Gorgeous view overlooking Sunshine Coast hinterland with verandas front and back both with comfy furniture to sit and relax. Peaceful and quiet yet only 10 minutes to Montville and 25 minutes to the Sunshine Coast. Our hosts Paul and Karin well and truly look after you and deserve their 5 star rating. If you don't want to go out for breakfast or dinner they can cook for you and Karin's cooking is delicious. I will definitely be staying again.
10/10: Personal Email, September 2019: Hi Paul and Karin, Thank you for making my son's birthday present staying at your house last weekend such a great experience. Both Liam and Kirsty had an amazing time away and they loved your place and the fact you made a birthday cake for him. He was very excited and impressed with the personal touch and also raved about the breakfast. Thank you again and hopefully it won't be their one and only visit. Michelle 
5/5: Google My Business Page, September 2019: Paul and Karin are both extremely helpful and friendly.. The home cooked meals are very generous and are to die for.. The rooms are elegantly designed and very private… We will definitely be back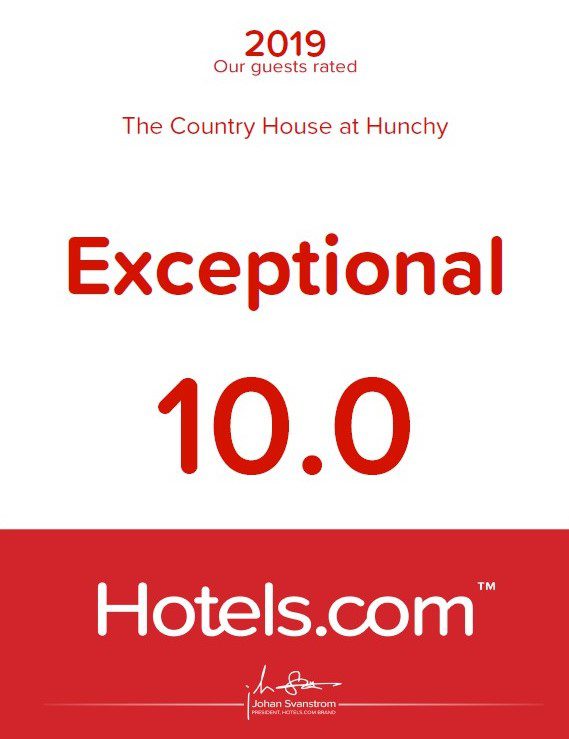 10/10: Bookingdotcom, September 2019: This is a beautiful Country House operated by the perfect hosts. It is in an attractive bush setting with a outlook over the pool towards the coast and sunset. The accommodation is superb, great decor and everything has been so well thought out. The hosts put on a very generous dinner and breakfast. There is absolutely nothing to be negative about here. Our one issue was that we were there for one night only and this place deserves more than that. Would certainly return and no hesitation in recommending to others. Thanks Paul and Karin.
10/10: Bookingdotcom, September 2019: Loved a quick stay on our trip to Montville. Paul & Karin were lovely! Very nice bath too!
5/5: TripAdvisor, September 2019: Luxurious and private country retreat. We stayed for six days at this amazing bed and breakfast and have nothing but praise for our experience! The modern interiors reflected the hosts' eyes for detail, and the back porch view was spectacular. The pool was larger than your normal backyard pool and you can actually do proper laps in it. We loved the oversized shower and the deep jet-bath was amazing to relax in. The bed and sofas were extremely comfortable and the sheets, towels and blankets were 5-star quality. Even the pool towels were extra large and luxurious. They also have the full Foxtel package for all your entertainment needs. The Country House was a 5 minute drive from the local village of Montville. The daily three-course breakfast that Karin cooked was outstanding and was of high-restaurant quality; it kept us full until late afternoon. She changed the menu everyday and it became a daily highlight for us. Paul was very informative about the area and even helped us plan our activities. One thing that really stood out for us was their efforts in going above and beyond their normal services. On our last morning after breakfast, Karin prepared three containers of leftover fruit cut up into pieces and even gave us utensils, serviettes and bottles of water for our drive back to Sydney. We were so impressed and enjoyed our stay so much that we have plans to return! Thank you Paul and Karin for an amazing experience!
5/5: TripAdvisor, August 2019: Eye for detail. Thanks Paul and Karin for a memorable experience, good value, quality accommodation, quality service, and quality food. Our stay was everything that the marketing promised it would be, and you won't get a better breakfast anywhere.
5/5: TripAdvisor, August 2019: Impeccable in every way possible. The most outstanding stay this Bed and breakfast is five star, the service is amazing, the food was exceptional you could easily believe you are eating in a five star restaurant Karin we cannot thank you enough everything was catered for beautifully. If you are ever in Montville this place should be a must on your lists to stay. Loved every minute of our stay can't wait to come back. Thank you Paul and Karin
10/10: Bookingdotcom, August 2019: Best holiday resort ever. Special thanks to Karin and Paul. They are awesome people who were so kind and helpful. I wish I could give them more stars for their friendly and kind nature. 🙂
5/5: Facebook Page, August 2019: Definitely well deserving of your 5 star rating & TripAdvisor Excellence Award. Beautiful place to stay & such attention to detail & quality items everywhere – Mercer & Reid towels! My daughter & I had a lovely & relaxing stay & the most delicious breakfast cooked by our hosts Karin & Paul. We will definitely be back and recommend to all our family & friends come here to stay. Only 10 minutes to Montville & 25 minutes to the Sunshine Coast makes this the perfect location.
5/5: Facebook Page, August 2019: Such a lovely & relaxing place to stay. Very high quality homewares have been used & the owners were very welcoming and friendly. Thoughtful amenities. We will definitely be back.
10/10: Bookingdotcom, August 2019: One of the most beautiful places I've stayed at. The gorgeous scenery and brilliant service to match.
10/10: Bookingdotcom, August 2019: We will be back! Excellent B&B. We couldn't have wished for anything better. Paul & Karin were so friendly & helpful and we liked the touch of Paul cleaning our car windows before we left, a lovely surprise. Would recommend it to all our friends.
10/10: Bookingdotcom, August 2019: Lovely hosts & beautiful place. We will be back. Pluses (+) View, surroundings, coffee, facilities available. Negatives (-) none.
5/5: Google My Business, August 2019: Paul & Karin are both extremely helpful and friendly. The home cooked meals are very generous and are to die for. The rooms are elegantly designed and very private. We will definitely be back.
More Guest Comments
5/5: Facebook, July 2019: We have just returned from 3 amazing days at this luxury B&B. Everything was 5 star and we couldn't fault anything. From the warm welcome when we arrived to the excellent rooms which were equipped with high quality appliances. The bedding, towels , dressing gowns were also top of the range quality. Who could surpass the fabulous views. There are so many extras you just don't get in other accommodations. Karin's cooking was better than any luxury accomodation we have ever stayed in. If there is one thing we would highly recommend is to definitely try the meals, you will be so glad you did. We planned one evening meal but soon changed to every night. Thank you for such a fantastic break away. We will be back.
5/5: Facebook, July 2019: A wonderful luxury style B&B with a pool and Gourmet Breakfast! Australian Experience is even better at The Country House at Hunchy:)
10/10: Bookingdotcom, July 2019: Paul & Karin made us feel very welcome & created a personalised service.
5/5: Facebook, July 2019: Wonderful hosts, thank you for making us feel so welcome today. hope to see you again very soon.
10/10: Bookingdotcom, July 2019: Exceeded our expectations – a stunning stay from start to finish, with lovely hosts in heavenly surroundings!
10/10: Bookingdotcom, July 2019: It was so quiet and peaceful, truly relaxing.
10/10: Hotelsdotcom/Expedia, June 2019: Beautiful and peaceful home in the Hinterland. You can always tell when someone puts love and pride into their home and that's exactly what you will find with Paul and Karin's beautiful home. From the moment we arrived, we were greeted graciously by our hosts and brought to our suite. The suite was more spacious than expected and tastefully decorated and sparkling clean! I considered myself a clean freak, and this place was beyond my expectations. We had breakfast and dinner at the home and Karin's cooking is amazing and the food was sumptuous. It was all the small little touches that made everything just that little more special. Thank you Paul and Karin for the beautiful stay. We will definitely be back again.
10/10: Bookingdotcom. June 2019: Loved the bathtub and great place all round.
10/10: Bookingdotcom, June 2019: Amazingly peaceful and relaxing. Our first night away from the kids in far too long and we could not fault our stay! From the moment we were greeted at the front door, to the moment we finished our amazing three course home made breakfast, every detail was incredible and well worth the money. We will most definitely be back to visit.
More Guest Comments
5/5: TripAdvisor, June 2019: Immaculate and Stunning. During our two-week trip to the East Coast, this was by far the best place we stayed. The view of the forest AND part of the ocean is the best part. We typically like to sleep in but we actually left the curtains open and set our alarms to watch the amazing sunrise. The amenities provided go well above and beyond expectations. They even include insect repellent and sunblock. There is a mini-bar in the room with reasonable prices (unprecedented in our experience) and the hosts even comped the milk for us. The room itself is huge, modern, and looks like it would be easy to clean. It was incredibly clean too. Usually I notice a little bit of dust somewhere in the rooms I've stayed in since I like to plug in my phone charger next to the bed but here I found none. The only drawback to my wife and I, which is actually a benefit to many, was the vanilla air freshener and the floral detergent used to wash the sheets. My wife and I have allergies to certain scents. However, these were easily remedied by moving the air freshener outside and using one of the provided beach towels on the top of the comforter. We did not tell the hosts about this but they seem so hospitable I bet they would have omitted the scents if we told them ahead of time. This is a great choice for a place to stay — perfect in-fact.
5/5: TripAdvisor, June 2019: Great B&B. An excellent B&B in a great location with lovely hosts. If you want a quiet retreat away from the hustle and bustle of city life you will not find a more lovely place to stay. Excellent breakfast and also evening meals available which are exceptional.
10/10: Bookingdotcom, May 2019: We loved the secluded peaceful setting of The Country House at Hunchy. The light filled accommodations were generous in size, with furnishings and decor matching the modern Queenslander designed home. We also enjoyed the high tea for two and three course breakfast prepared by Karin. A very enjoyable stay. Two nights wasn't long enough to unwind and truly relax in this peaceful accommodation.
5/5: Expedia, May 2019: What can I say, this place is totally amazing for location, food, comfort & Karin & Paul were just the absolute best hosts. I can't stop raving about this to our friends, Karin is a very accomplished cook with food to tempt everybody's taste buds. We will be back that is for sure.
10/10: Bookingdotcom, May 2019: The perfect little getaway spot after an exhausting week! The bath was extraordinary and so relaxing – Karin and Paul even included some complimentary bath salts! The bed was super comfy, everything was clean and the room had a lovely view. Karin and Paul themselves were so lovely and accommodating. Great hosts!
5/5: TripAdvisor, May 2019: Absolutely amazing. We stayed here for two nights and could have stayed on longer because of Karin & Paul. They really are the best hosts in the world & the food that Karin cooks is amazing & fresh & locally sourced produce. You wouldn't go hungry with either breakfast or dinner. Karin is a wonderful cook & you would think she has worked in top restaurants given her menu. We can highly recommend staying here for dinner as well because it is a bit of a drive if you want to go into Montville but why bother when the food is so good there & you can drink & not have to drive. We got the premium package which included the breakfast which was four courses & then there was no need for lunch. At dinner you can BYO alcohol or you can buy it there & not expensive. Also included in the premium package was a bottle of wine, water & any of the Nespresso coffee capsules for your own in-room machine. The rooms are spacious & the bed was very comfortable with a choice of pillows for all likes. We arrived as strangers but left feeling like good friends & Paul even washed our car before we left now that really is service. You couldn't have wished for a better stay in your life & I guarantee we will be back.
5/5: Ebookers/Expedia, May 2019: The Country House at Hunchy is from A-Z perfect 🙂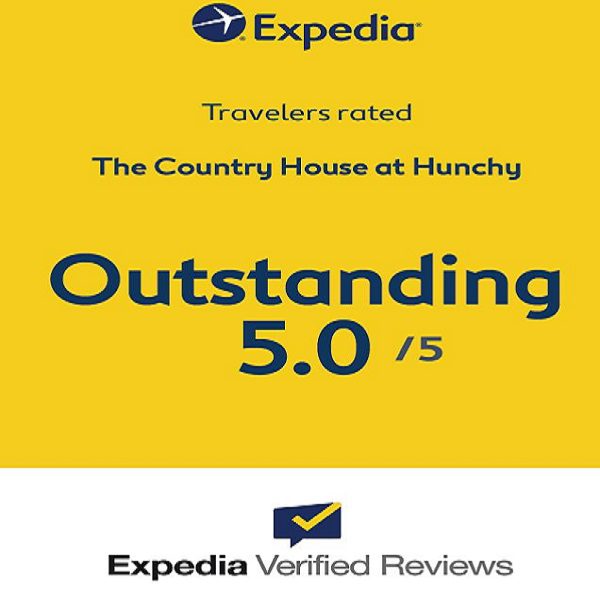 More Guest Comments
10/10: Bookingdotcom, April 2019: Exceptional! The owners were very friendly and hospitable. The location and facilities exceeded our expectations and were devine! Most definitely will be returning and sharing with friends and family.
5/5: Expedia, April 2019: Beautiful !!!! Peaceful, spotlessly clean, really comfortable bed, fabulous spa bath! 10/10
5/5: Expedia, April 2019: A wonderful facade greets you and welcomes you, the owners are there to make you feel relaxed and ready to enjoy all the wonderful facets of the property, a new twist at every place you turn to. The views stretching over the leafy trees into the distant sea, with the weather constantly changing to paint a new picture for you,  gives you a feeling a peace and relaxation. The brilliant and really caring service from our hosts was just the icing on the cake!!
5/5: Expedia, April 2019: First class service, accommodation and food in a beautiful location
5/5: TripAdvisor, March 2019: Anniversary Weekend: Amazing place, amazing facilities, exceptional food and wonderful hosts. Could not recommend The Country House at Hunchy more highly. The house and facilities were beautiful, our suite was well appointed with everything catered for even down to the finest details. The setting which the house is set in is tropical and tranquil and for our anniversary celebration was everything we hoped for. Nothing was too much trouble for our hosts Karin and Paul with amazing food and very personalised service, Karin organised a couples massage within our suite by a local therapist, absolutely fantastic. While Paul has provided some exceptional local knowledge which enabled us to navigate the local area to maximise our time there. We would highly recommend The Country House at Hunchy to the traveller who likes the finer things in life and is looking for luxury and pampering, we will definitely be returning.
5/5: TripAdvisor, March 2019: Paradise! My one night stay here was just what I needed after a stressful/ traumatic series of events. I ordered a antipasto/cheese platter for late lunch/ early dinner and it was so huge and delicious- really indulged in that! Breakfast was another feast – 3 courses all to myself. Thank you to the beautiful owners & hosts, I felt very spoilt xo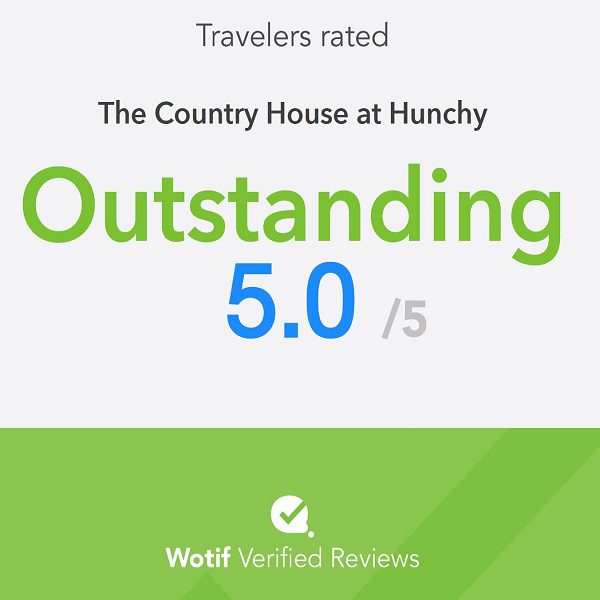 More Guest Comments
5/5: TripAdvisor, March 2019: Holiday! What a beautiful place to stay, nice and quite. clean and well set out. Pool and balcony. Karin and Paul are very friendly and welcoming. we had dinner there 2 nights of our stay and the meals were absolutely delicious.
5/5: TripAdvisor, February 2019: Rewind and relax. Having spent 2 nights away to relax, this was just the medicine we needed. The hospitality of Paul and Karin was warm and welcoming, the food outstanding and the comfort and privacy of the rooms a dream. Felt refreshed and relaxed….highly recommend. Kerrie and Craig
5/5: Google My Business/Google Maps, February 2019: If you want peace and relaxation in beautiful surroundings, I highly recommend The Country House at Hunchy. The spacious guest rooms offer luxurious bed and linens, plenty of space, and many thoughtful touches such as Nespresso coffee machine, local chocolates, bathrobe and slippers, pool towels and make-up removal wipes. The breakfast is wonderful, utilising local produce and hosts are very friendly and helpful.
5/5: Google My Business/Google Maps, February 2019: Lovely atmosphere hosts go above and beyond to make you stay stress free, meals are the best I have ever tasted. Highly recommend them.
10/10: Booking.com, February 2019: A hidden gem! The Country House at Hunchy is exactly as described – it is luxurious, well kept and serviced with a friendly and casual (yet professional) demeanour. Some thoughts moving forward: *Have at least one meal – the food is divine! *Book with Paul and Karin directly to save some money. *Spend some time exploring the house. *If you need suggestions for meals, activities etc. ask your hosts as they have a well of local knowledge. This BnB is amazing.
5/5: TripAdvisor, 28 January 2019: A Perfect Stay. Had a wonderful two day break at this marvellous B&B. We were looked after so well. Luxury accommodation, gourmet meals promoting local produce, afternoon tea delicious and the special treats in the room. Can't wait to return. Thank you so much Karin and Paul.
10/10: Booking.com, 15 January 2019: A wonderful venue to relax & be pampered. Individual home cooked meals were delightful & service exceptional. Evening dinner was excellent!
5/5: TripAdvisor, 13 January 2019: Weekend retreat: Well we can only agree with the other excellent reviews already posted – this place is fantastic! The attention to detail is second to none and Paul & Karin do everything to make sure that your stay will memorable. We didn't opt for the dinner there but after experiencing the quality of the breakfast we wish we had! You won't be disappointed if you decide to stay here!
5/5: Facebook Page, 11 January 2019: The hospitality provided by Paul and Karin is second to none. I booked a night away for my girlfriend and myself and was my first time staying at a B and B and most certainly won't be our last. The rainforest room was everything we could have hoped and dreamed for and then some! Attention to detail was impeccable, very quiet and peaceful surroundings. Nothing was ever too much to ask for by Paul and Karin. The three course brekkie was one to remember – Karin's home baked assorted pastries was one of many highlights of this place. All in all – I cannot recommend this place enough and will definitely be back. Thank you very much Paul and Karin for your hospitality and service during our stay!
5/5: Google My Business/Google Maps, 4 January 2019: We had a wonderful stay at Paul's & Karin's beautiful Country House. Karin cooked us a 3-course breakfast every morning which was delicious, the location was extremely relaxing & quiet & the room was gorgeous & had everything we needed. We would highly recommend staying here for a romantic getaway from the hustle & bustle of city life. Thank you Karin & Paul for having us!
5/5: Google My Business/Google Maps, January 2019: Absolutely amazing accommodation. Beautiful, clean elegant rooms. Amazing breakfast and hospitality. Owners Karin and Paul are extremely accommodating. Karin's home cooked breakfast and dinner are not to be missed!! Absolutely delicious!!
10/10: Bookingdotcom, 4 January 2019: +(Pluses) Location, the hosts & the environment of the place, – (Negatives) Nothing at all