Here are some Guest Comments most of which have been published online recently
You can be assured that all our published Guest Comments and Reviews are 100% genuine
You can check the authenticity of the Online Guest Comments by visiting the website indicated. BUT don't forget, Book Direct for the best deal!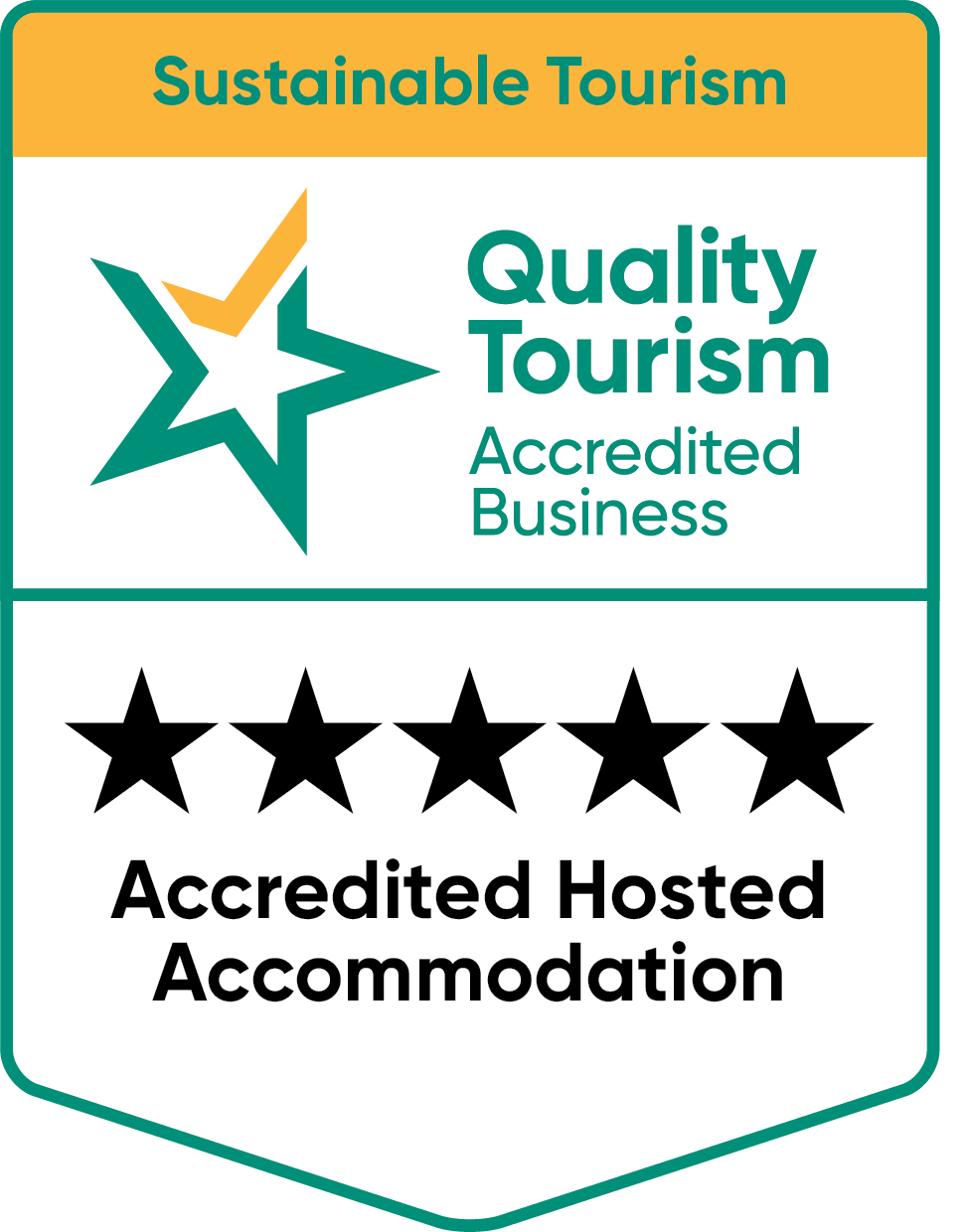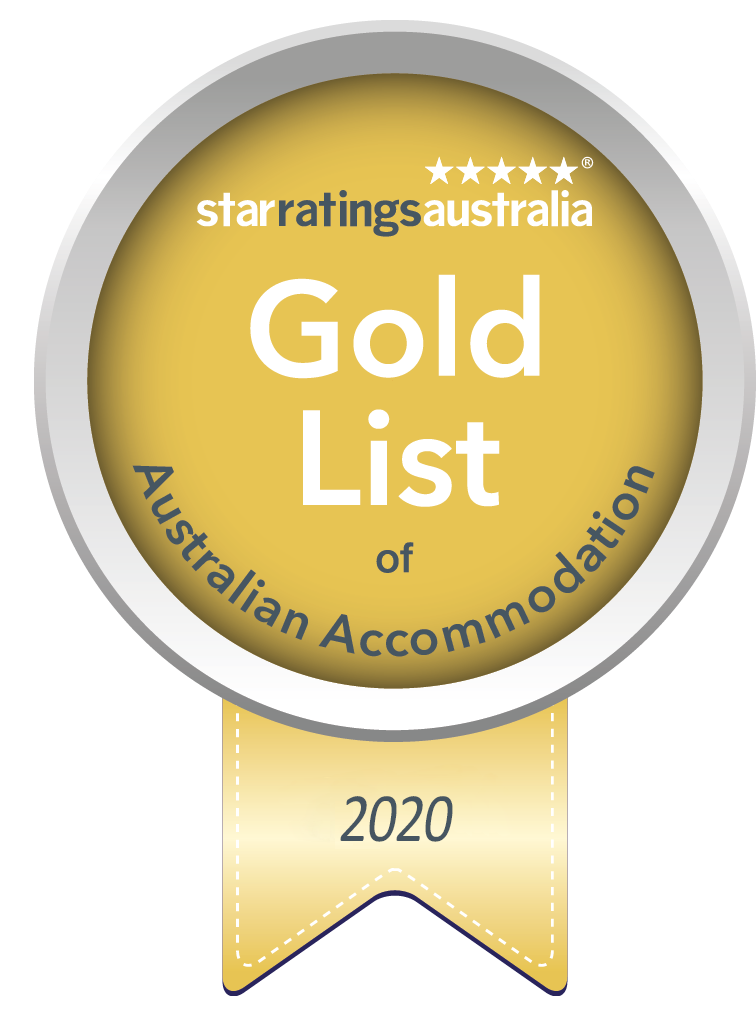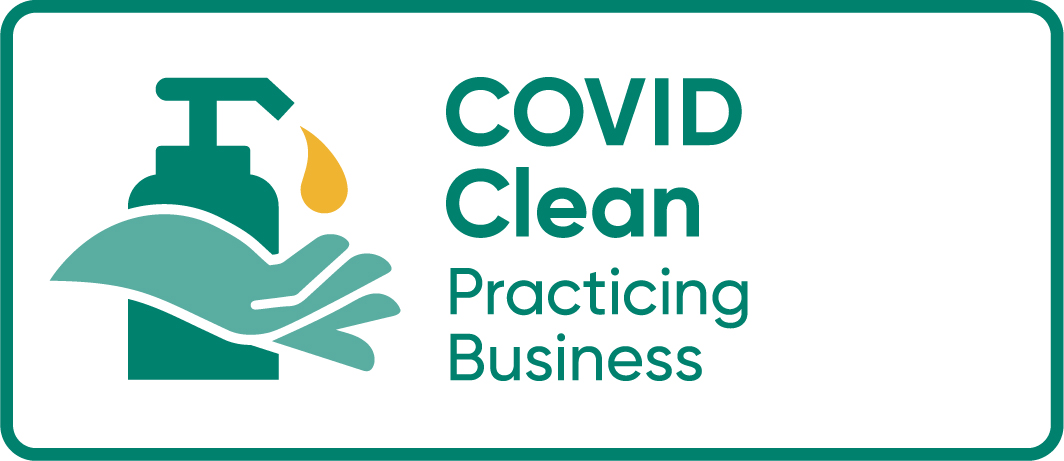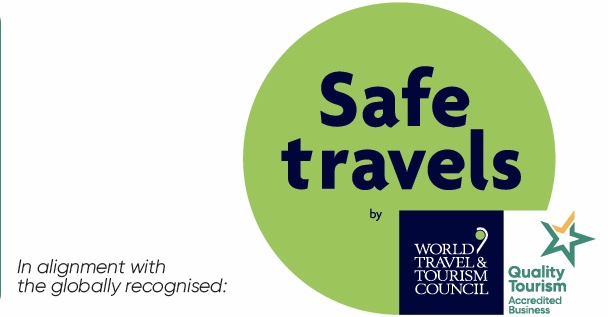 Guest Comments January 2021
10/10: bookingdotcom, January 2021: One night away with the hubby was not enough, we will definitely be back again! Karin and Paul were amazing hosts. They were so friendly and accommodating which made our stay one to remember. The in house dining was spectacular, the food was absolutely amazing and the time between dishes were well spaced out. If you are thinking of dining in, make sure you come hungry as you don't want to leave leftovers. It was delicious
10/10: bookingdotcom, January 2021: Our favourite short stay to date! Location is amazing if you want to get away from the hustle and bustle. Meals were superb and exceeded our expectations. Room was beautifully appointed with big fluffy towels, crisp linens and a king size bed. Every small detail was thought out. Owners were very friendly and accommodating. I cannot recommend The Country House at Hunchy highly enough
10/10: bookingdotcom, January 2021: A very quiet surreal break, with scrumptious food that you couldn't fault. I loved the ambience of the property. The Hosts, Karin and Paul were excellent and the food was amazing. Will certainly go back, as it was a beautiful relaxing stay with scrumptious food and great hosts. There is nothing not to like here. We were accommodated to a high level of food, excellent and comfortable accommodation. Very clean property that was an absolute joy to stay in
Guest Comments December 2020
5/5: Expedia, December 2020: Lovely property & setting, welcoming, homely and delicious food provided by the owners
10/10: bookingdotcom, December 2020: Beautiful property and very well run. Would love to come back 
5/5: The Country House at Hunchy Facebook Page Review/Recommendation:  Had a wonderful couple of nights at Hunchy Country House, everything is thoughtfully prepared, delicious food using local produce, modern spacious room, we are very happy with this stay
Thank You Email, December 2020
'Dear Karin and Paul
Thank you for creating a truly tranquil ,luxurious , and delicious holiday experience. Every detail of comfort and luxury was available in our suite, whilst the quiet surrounds and lush gardens made for an idyllic setting.  Karin's breakfasts and dinners were generous and  a gourmet delight. You were most genial hosts, the wine as part of our package and other goodies were special, so too was the bouquet of long stemmed roses which were gifted to us for our anniversary. Our stay was the highlight of our year. Many thanks Julie and Ross' 
Thank You Note, December 2020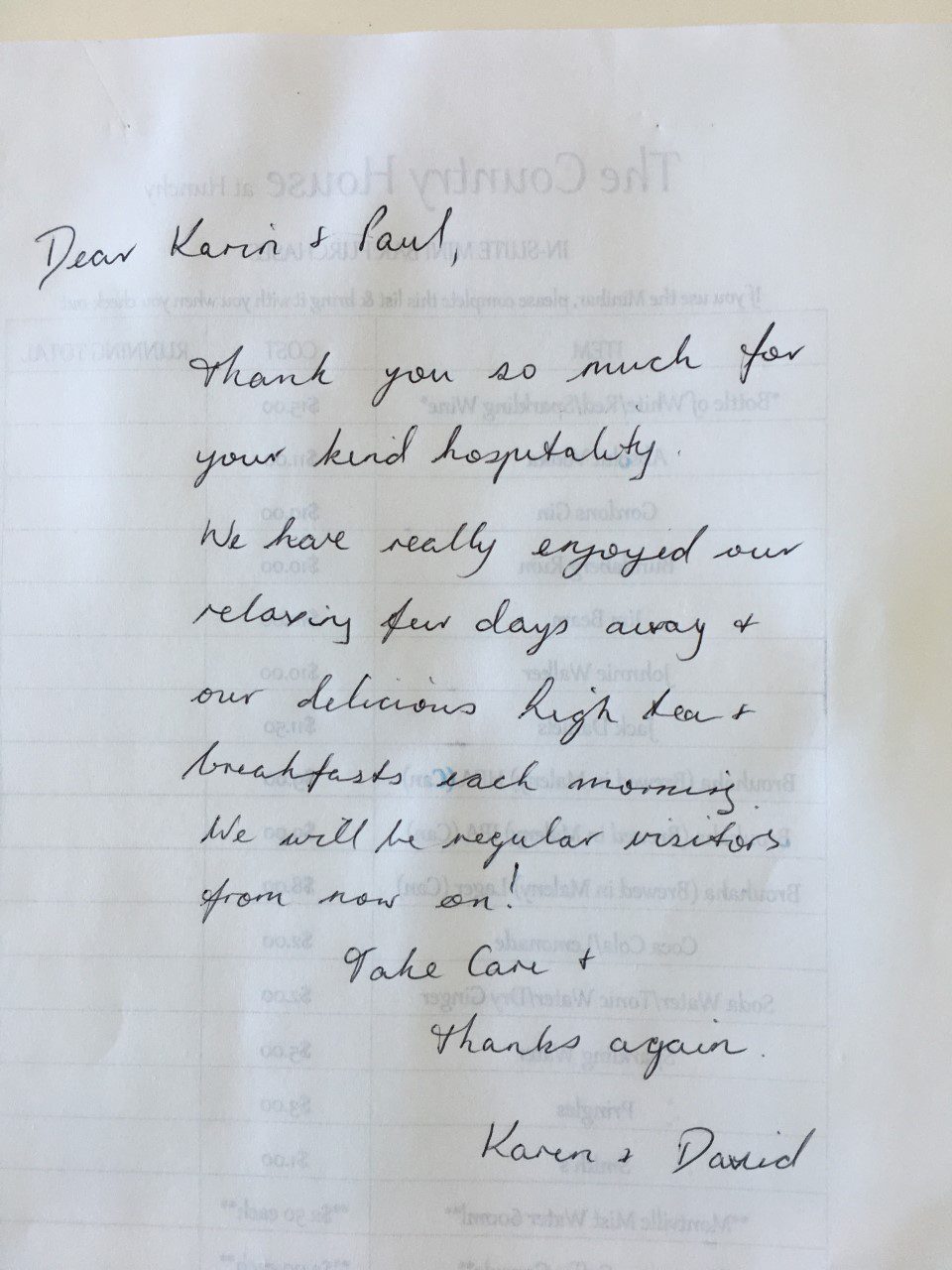 10/10: bookingdotcom, December 2020: Perfect getaway! So peaceful. Loved the pool and the room was very spacious. We had dinner in one night and the food by Karin and Paul was great. Second night we went to The Long Apron at Spicers, a must! Food was exceptional. If you go for the luxury package when staying here, it includes a bottle of wine, coffee in your room and a delicious 3 course breakfast. Karin and Paul really go out if their way to make it such a special stay. Highly recommend
5/5: The Country House at Hunchy Facebook Page Review/Recommendation: My partner and I had an amazing stay. The room was the best we've stayed in and the addition of breakfast made our weekend away just that more enjoyable. Highly recommended and we will be back
Guest Comments November 2020
5/5: Tripadvisor, November 2020: 5* experience. We were fortunate enough to have a weekend stay with dinner at The County House on the recommendation of friends. The whole experience from walking through the door to leaving was truly 5 star. We have stayed in lots of high end luxury hotels before but the accommodation on offer here along with the location of the property is outstanding, as is the service provided by the owners Paul and Karin. The breakfast included in our package and the additional meal we purchased were home cooked by Karin. They were of an extremely high quality and knowing that Karin had prepared every aspect of the meal from the home made Danish pastries to the slow cooked lamb made the meals even more special. A return trip is definitely on the agenda!
Thank You Card, November 2020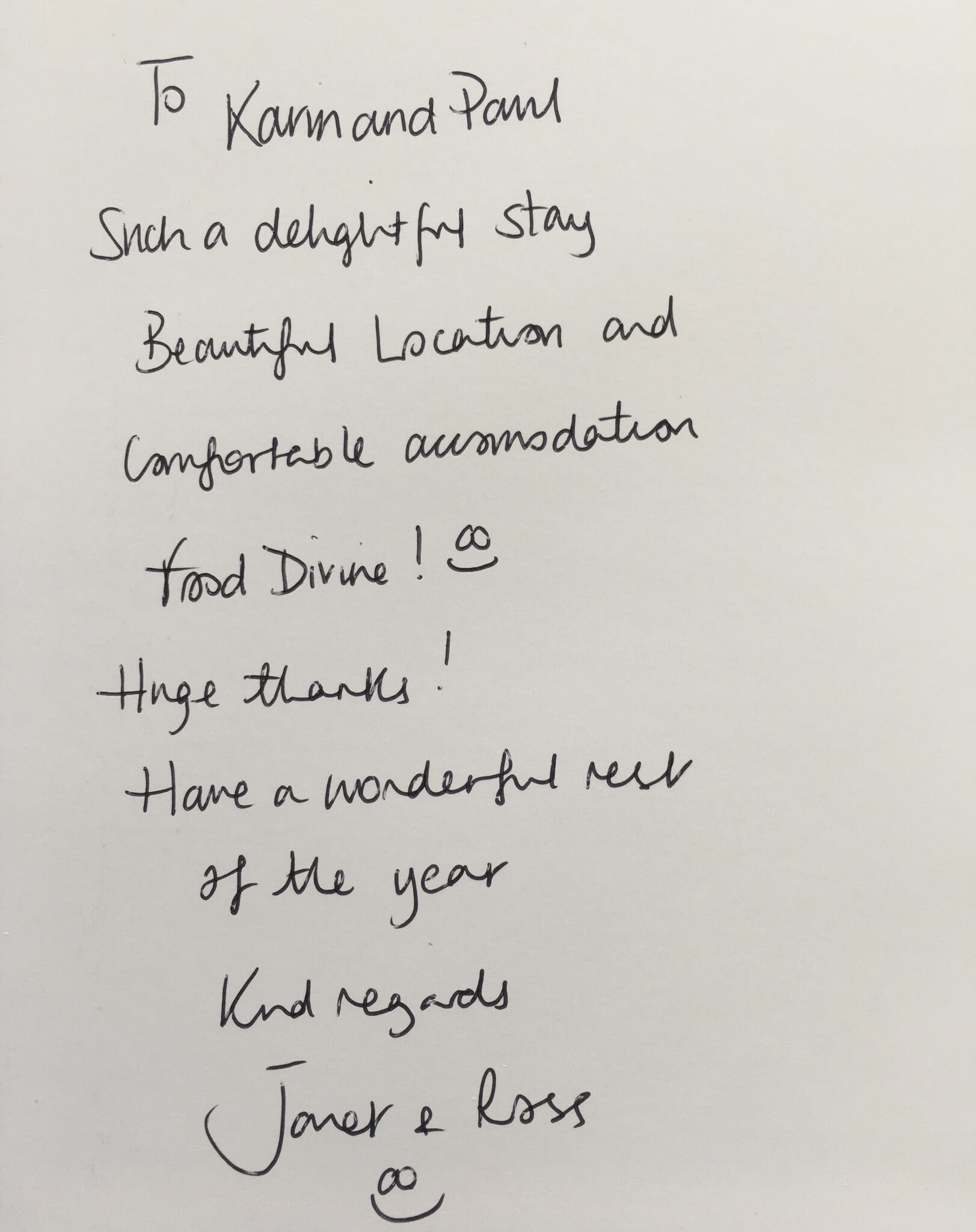 Guest Comments October 2020
10/10: bookingdotcom, October 2020: Fantastic. Wonderful hosts and a lovely short drive from the main Montville shops
10/10: bookingdotcom, October 2020: Very hard to beat. All the meals were excellent – never had better at any hotel that we have stayed at. The rooms lacked nothing in comfort or accessories.
10/10: bookingdotcom, October 2020: Would love to stay longer next time. A great place to relax and close to SC hinterland spots! We celebrated my husbands birthday overnight. We arrived after a huge downpour to Karin and Paul who immediately made us feel welcome and relaxed. Dinner was amazing and the breakfast was also a standout! Everything was wonderful, it was an excellent stay.
10/10: bookingdotcom, October 2020: Relaxed getaway. It was one of the most relaxing stays. The bed was super comfortable. Plenty of space to lounge around. The quietness of the place is so calming. Karin and Paul were an absolute delight. Their meals were delicious. They also had a wealth of knowledge about the area and places to visit. Would definitely come back
10/10: bookingdotcom, October 2020: The breakfast was great and the location was very comfortable. The room was awesome and we loved that they supplied a lot of local produce in the mini bar and the breakfast was also locally grown and sourced. We went to one of their recommended restaurants (Harry's on Buderim) which I think we will be going back to because the food was delightful and the service was outstanding. We'll be going back to stay and go to the restaurant in the near future.

Guest Comments September 2020
10/10: bookingdotcom, September 2020: Very relaxing with food to die for. We would certainly return. Very friendly owners and the food was first class with big servings. Very quiet due to No through road. Highly recommend.
5/5: Tripadvisor, September 2020: An unbelievable three nights stay at The Country House at Hunchy Montville.
We have stayed in many B&Bs in Australia and around the world and The Country House ranks as one of the best ever. Paul and Karin are superb hosts and go that extra mile to make you feel welcome, comfortable and ensure you enjoy your stay. Their breakfasts are out of this world and are the best we have ever had at any B&B. Our only mistake was not to arrange to have one of their in house dinners but we will next time we visit.
The suites are very large and are closer to a small apartment. They have every inclusion you can imagine and some that you wouldn't. The entire place is as clean as a whistle. It is in a quiet natural environment and you don't have to contend with any noisy traffic or tourists.
There are only two suites so the maximum number of guests will be four.
We had a very memorable time there and will be returning sooner rather than later.
A must if you are going to stay anywhere in the Montville area. I am certain that nowhere else in the area will be able to match them in terms of quality and value for money. 
5/5: Tripadvisor, September 2020: Amazing, relaxing and great food. We had a beautiful, fully equipped suite which was very clean well planned and very comfortable with all the luxury items provided. We had a very relaxing enjoyable stay. The hosts, Karin and Paul were very welcoming and accommodating. We enjoyed as much food as we could during our stay so we didn't have to worry about a thing. The food that Karin and Paul cook is AMAZING. All locally sourced, fresh and you can taste the love and goodness in their cooking. We will certainly recommend The Country House at Hunchy to family and friends wanting to get away from the hustle and bustle. And we will certainly be back. A lovely night away which exceeded our expectations.
10/10: bookingdotcom, September 2020:

A pampering and tranquil getaway with fabulous food.
Our stay at House of Hunchy was so relaxing. The large room was beautifully furnished and very comfortable with balconies overlooking the stunning gardens. The three course breakfasts were superb. Our hosts were warm and welcoming and offered lovely extras that made us feel very pampered.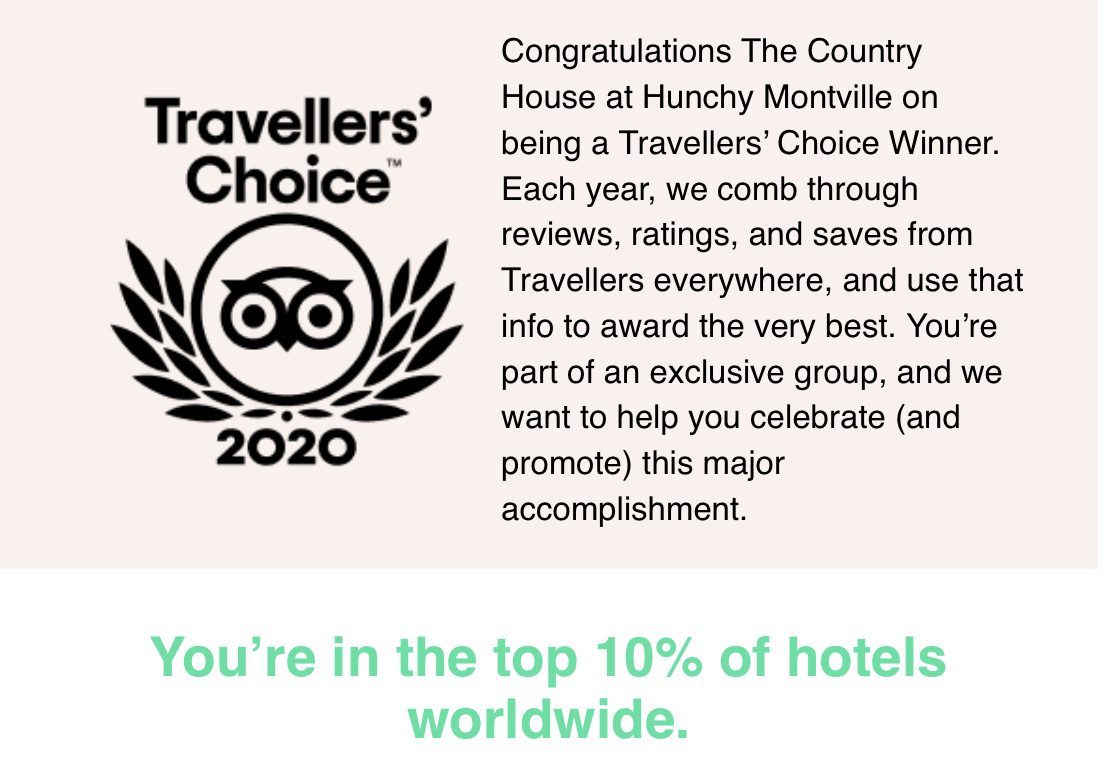 Guest Comments August 2020
5/5: Facebook Page Review/Recommendation, August 2020: My husband and I celebrated his birthday by staying 1 night in the Rainforest Suite. To summarise it in few words, we had a truly wonderful stay. From the moment I made the booking through the moment we left, Paul and Karin are terrific hosts. Keeping in contact and making it really easy, especially with all the useful information they provided prior to arriving. The room itself is beautifully kept, with plenty of space throughout. The bath was a highlight as was the tranquil view from our balcony. We had dinner there and Karin's cooking is absolutely delicious! Everything is so fresh and yummy, we came away feeling so full and content after our 3 course meal. We were equally as pleased with the amazing breakfast. I could not fault the food and highly recommend enjoying a meal there. Karin is a fantastic cook, along with the help of Paul. We loved it so much, we have already booked to come back again in summer to enjoy the pool. Thank you again for a wonderful and relaxing stay, and we can't wait to return!
10/10: bookingdotcom, August 2020: Perfect. Hosts are amazing and so accommodating nothing is a problem. Cleanliness was 10/10. Modern & Comfortable Décor. We can't wait to stay again
10/10: bookingdotcom, August 2020: Exceptional. Wonderful hosts, delicious food, great bedroom. Will be back!
5/5: Facebook Page Review/Recommendation, August 2020: We can't highly recommend the Country House At Hunchy enough. Paul and Karin are the most gracious and welcoming hosts who make the experience even more inviting. The Rainforest room is modern and stylish. Every attention to detail is included. Karin's love of cooking is superbly out of this world. She uses all fresh and locally purchased produce to warm up your heart and soul. Paul makes the best coffee on the planet. We arrived feeling weary and tired, and left after having the best night's sleep, feeling refreshed and rejuvenated. We wanted to stay longer, so will be back again for sure. A truly 5 star experience that we'll always treasure. Do yourself a favour and book in for a weekend of relaxation and spoils. Thank you soo much Country House At Hunchy.
5/5: Expedia, August 2020: A beautiful place to unwind and relax in 5 Star Accommodation. We booked the Rainforest Suite with the Premium Luxury package and thoroughly enjoyed our overnight stay (we wish we could have stayed longer). Paul and Karin greet you on arrival and show you through the main house and suite to get you settled in. The suite is wonderfully appointed with all the modern and stylish features you like to see in accommodation of this quality. It's only minutes away from Montville and only a short drive to Maleny or the Sunshine Coast. We ordered dinner to have in our room and it was just delicious. Karin is an excellent cook and the meal was restaurant quality. The portions are generous and the ingredients are sourced fresh locally. The luxury package also includes a 3 course breakfast for 2. As with dinner, it was beautifully presented and absolutely delicious. Paul's coffee is awesome! Paul and Karin are so welcoming and gracious. It was an absolute pleasure to stay and we will be back for a longer stay next time. If you are looking for a getaway, this is the place to stay!
10/10: bookingdotcom, August 2020: Exceptional. Beautiful property in a beautiful location
10/10: bookingdotcom, August 2020: Our hosts went out of their way to make us comfortable – a very quiet relaxing stay

Guest Comments July 2020
5/5: Google My Business Page, July 2020: Amazing stay, the rooms are immaculate, the food cooked by Karin was FABULOUS! Such a wonderful stay.
Thank You Card, July 2020: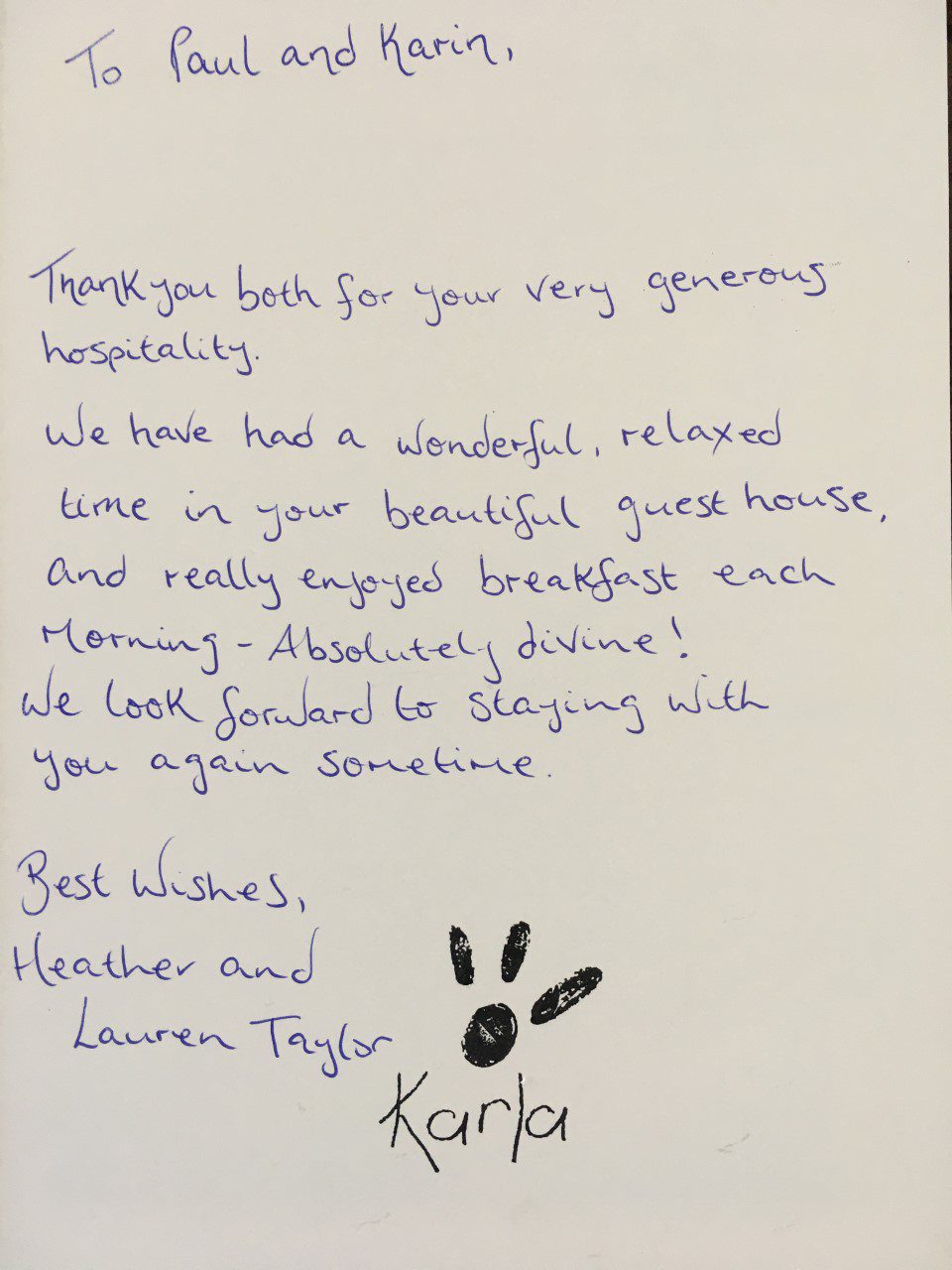 Instagram Post, July 2020: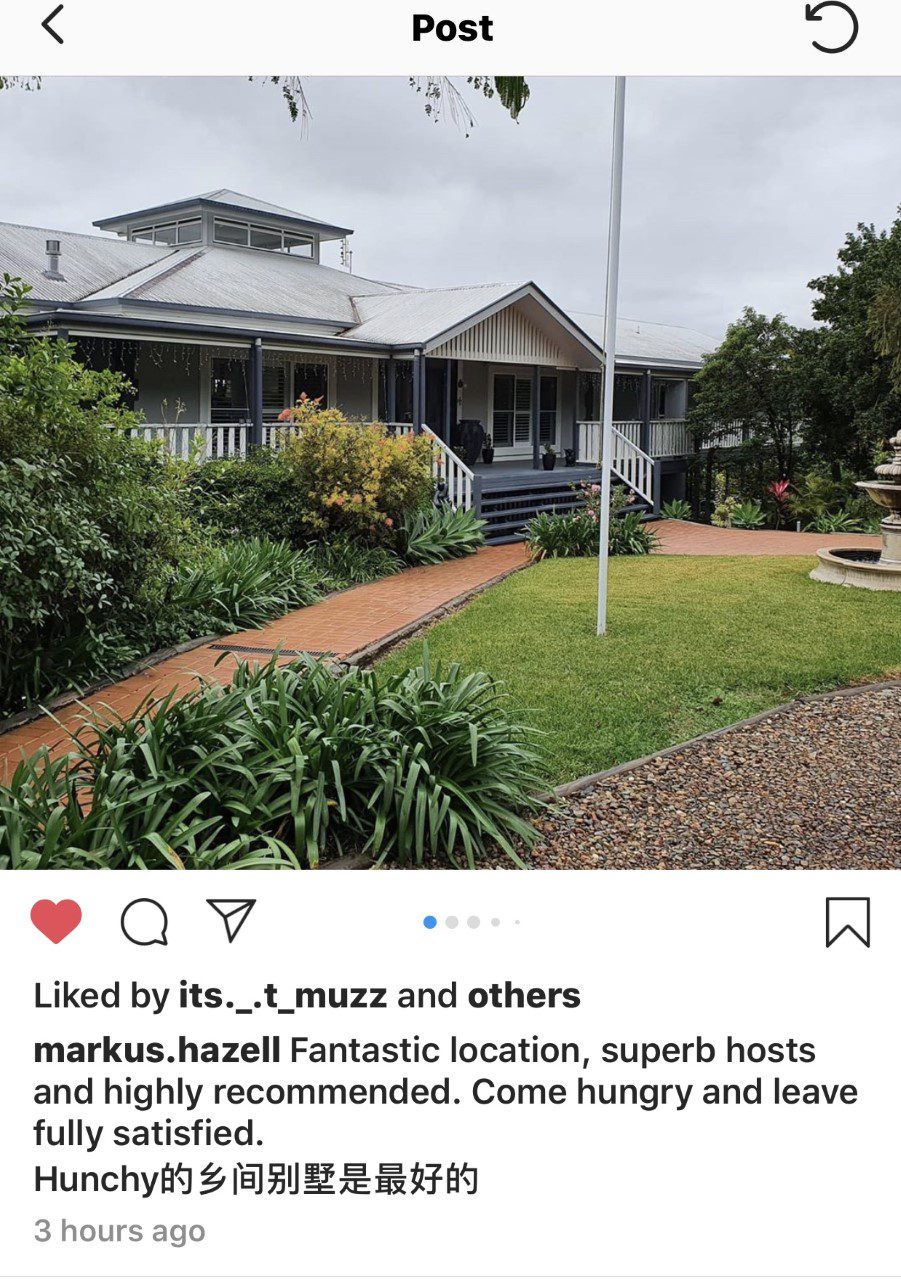 5/5: Tripadvisor, July 2020: Truly Fabulous. To describe Paul & Karin's accommodation would be thoughtful, generous and memorable. Thoughtful in regards to their experience as travellers ensures every possible need is catered for in your room which makes you feel so welcome. Generous in the multitude of extras that are bestowed unasked for to ensure your stay is so enjoyable and lastly memorable with the insanely wonderful food prepared by Karin who is more that a cook but a true chef. Remember to diet before staying there because you will certainly need to partake of the many bush walks to justify having her scrumptious food. We adored our birthday visit and cannot recommend this accommodation highly enough. Thanks to you both.
5/5: Expedia, July 2020: Stunning room & views, amazing food & wonderful owners
5/5: TripAdvisor, July 2020: Two night stay. We would normally stay at hotels so was unsure what to expect from The Country House. The suite was beautiful, very comfortable and absolutely spotless. Well equipped. Coffee machine is a nice touch and not often found even in top hotels. Plenty of thought has being applied to make sure your stay is a memorable one. The location has beautiful views out to the coast from your private deck. Located in a peaceful area. Minutes away from restaurants and shops in Montville. Hosts couldn't be more helpful. Home cooked food is excellent. Breakfast variety and quality of produce rates a 10/10. Would highly recommend and hope to visit again soon.
5/5: Google My Business Page, July 2020: We did a one night get away from the kids. What an experience! They're located up Hunchy Road in a quiet and remote spot. They were ready at the welcome and gave us the grand tour and left us to just enjoy our quick time together. The breakfast in the morning is above and beyond. Will stay again, and recommend to all.
5/5: Google My Business Page, July 2020: The room was beautiful room and the view was amazing. On top of that, Karin & Paul made me feel right at home during my stay. Nothing was too much trouble, and Karin's meals were utterly delicious. This was the best getaway I've had in a long time!
5/5: Facebook Page Reviews/Recommendations, July 2020: Such an amazing place to stay. From the hosts who are so attentive to every detail and then to the room that is luxurious and comfortable with beautiful finishing and such thoughtful touches. Karin and Paul cooked us an amazing dinner and breakfast… the food was local and beautiful and better than restaurant quality. It was so easy with them catering to my gluten intolerance like it was just a simple request. The place was picturesque and we had the most relaxing and enjoyable time. Perfect couples retreat. I will definitely be back!

Guest Comments June 2020
10/10: bookingdotcom, June 2020: Perfect Couples Getaway. I booked this stay as a present for my partners birthday. It was a wonderful experience from the start. Paul and Karin were prompt with communication and had lots of wonderful suggestions to make the most of our stay. Paul and Karin have also done a wonderful job of showing off the local produce through their food. We ordered a cheese platter that was ready on arrival, it was lovely and all from local dairies. Couldn't fault our stay! Would definitely recommend!
10/10: bookingdotcom, June 2020: Super relaxing stay, amazing views. Couldn't be happier. Super friendly and helpful hosts. Dinners and breakfast excellent. Very spacious suite, lovely décor, very clean. I've already recommended to many friends and intend to return myself hopefully in the not too distant future. I can't think of anything I didn't like. Everything was perfect.
10/10: bookingdotcom, June 2020: Best weekend getaway! An amazing place to stop and slow down. The service was incredible. The food that was served for dinner and for breakfast was outstanding.
10/10: bookingdotcom, June 2020: Perfect place for a relaxing break. Beautiful property with fabulous personal service from Karin and Paul. Gorgeous views and a secluded location. Comfortable bed and pillows, which is rare praise coming from me, especially during pregnancy! Breakfast was a real treat and filled us up so we could have easily skipped lunch or dinner. Lovely coffee and the homemade pastries were really special. A wonderful place to celebrate our impromptu "babymoon" due to the perfectly timed easing of travel restrictions.
10/10: bookingdotcom, June 2020: The Breakfast is a Must!! Home cooked delicious food from locally sourced farmers. We also enjoyed a 3 course dinner which was magnificent! The owners went above and beyond to make sure we were comfortable. Will definitely be back!
There is a gap in the dates of Guest Reviews due to the impact of COVID-19 meaning we were closed because of travel restrictions in Queensland and Australia
So no Guests during March, April and May 2020!
Guest Comments February 2020
10/10: bookingdotcom, February 2020: Beautiful location. Peaceful. Spacious. Everything that you would need is there. The couple who run the place are extremely nice and friendly. Our car broke down on the way and we were ready to go back home to Brisbane. When we rang they offered to drive down and pick us up and then took us to the train station the next day. They went above and beyond. They also cooked us a meal in house. Very much recommended!!!!
5/5: Google My Business Page, February 2020: My wife and I stayed for two nights in late December. The accommodation and hospitality is excellent. There is nothing that I could possibly suggest that needs improvement.
Guest Comments January 2020
10/10: bookingdotcom, January 2020: Home away from home! Lovely weekend getaway! Karin and Paul are absolutely great hosts and served us with a delicious three course breakfast and lots of local knowledge. Rooms are stunning and impeccably clean! Everything was perfect we never wanted to leave. The extra little chocolates and wine were such a special treat! Thank you so much for having us, definitely a beautiful place to stay!
10/10: bookingdotcom, January 2020: Absolutely beautiful stay. Did not want to leave. Such a serene and stunning place! Beautiful location, beautiful room, beautiful everything!
5/5: TripAdvisor, January 2020: Simply amazing. This is an amazing getaway. It had everything we wanted for our escape – luxury, privacy and quality. The food was amazing and very good value. There is a large pool. The bed is very comfortable. The bathroom has a deep tub with jets. Large shower. Recommend the premium package which includes a bunch of little bonuses to make everything a little nicer and a personally cooked breakfast. Full Foxtel package too. Undercover parking. Great scenic views.
10/10: bookingdotcom, January 2020: Absolutely Perfect! My husband and I just finished up our week long holiday with a stay at The Country House at Hunchy. We've stayed in Montville before and absolutely love the area. Our stay exceeded all expectations and we already had high ones! The suite was beautiful, exceptionally comfortable (and we are pretty hard to please when it comes to beds!) and absolutely spotless, so well equipped with everything you'd need and more. They've thought of everything which really makes your stay that extra special. The location was stunning with beautiful views across the rainforest and over to the coast. It was peaceful, with cool breezes to enjoy when sitting out on the deck. And just a short drive to restaurants and shops in Montville or Palmwoods. We were so pleased with everything, we decided to stay an extra night to enjoy the peace, privacy and serenity before heading home. Karin's breakfasts were fantastic and properly set you up for the day and her home cooked dinner which we enjoyed in our suite one night was super yummy! We really appreciated her going the extra mile to accommodate our gluten free diets too, even baking us GF muffins for breakfast! We will definitely be back, I was so gutted to leave! Hosts of the absolute most!
Personal message: January 2020: 'Hi Paul and Karin,  we would just like to thank you again for making this a wonderful Christmas for us. We appreciate the amount of time you spend sourcing amazing produce and for Karin's patience when cooking for us due to dietary restrictions and choices. We wanted you to know that your home is the most fantastic place to unwind and enjoy the peace and quiet. We are so grateful that we found you'.
5/5: LastMinute/Expedia: Beautiful scenery. Room and food impeccable. Lovely owners. Very friendly, helpful and welcoming. Definitely return many times again in the future.
END OF GUEST COMMENTS