These are just a few examples of Guest Reviews which have been added on-line recently as indicated
5/5: TripAdvisor, 10 November 2018: Superb in Every Way. We recently stayed two nights at The Country House at Hunchy and what an amazing experience it was in the King Spa suite. Karin and Paul were such wonderful and caring hosts and their Country House was absolutely stunning. The 3 course breakfasts on both days of our stay were superb and all prepared by Karin; lunch certainly is not needed afterwards! We also dined on Karin's in-house 2 course dinner on our first night of stay, this was an absolute delight. The dinner option is a fabulous idea, especially if you have been travelling during the day. To have dinner awaiting just a short walk to the common dining area was so convenient. All produce is locally sourced by Karin and Paul and the flavours just superb. Karin's Prawn Thai Curry and Honey Mustard Chicken are highly recommended, Chocolate Cake and Lemon Tart also being great dessert choices. The Country House at Hunchy is beautifully decorated, very well appointed, spotlessly clean and boasts the most magnificent rainforest outlook and distant views to the water on a clear day. There is also a pool for guest use. A walk around the garden is a must, secret walking tracks lead you to lush tropical gardens, exotic plants and great photo opportunities. Paul was ever so helpful with directions to get us to our family wedding in the nearby Montville Chapel, also providing us with printed maps the following day in order that we could visit a nearby rose farm. Once at the Country House at Hunchy, you just don't want to leave, the serenity and peacefulness is absolutely sublime. We wish we could have stayed much longer and can't wait to return. A huge thanks to Karin and Paul who have a unique property and hospitality far beyond expectation … an absolute dream stay.
5/5:
TripAdvisor, 6 November 2018: 
Absolutely stunning! 
What can I say, The country house at Hunchy is WOW. When we arrived we were greeted by Paul and Karin and given a tour of their amazing home. The room was beautiful and included all the finer details. The stunning views, the peace and quiet was just what we needed to unwind and relax. The meals Karin cooked for us were so delicious. Breakfast of a morning was so filling that we didn't need anything to eat till almost dinner time. Paul and Karin were the best host and made my husband and I felt very welcomed. We would highly recommend The Country House and will definitely be back. Thanks Paul and Karin
5/5: 
Facebook Page, 5 November 2018: Wow such a beautiful place to stay. Thank you Paul & Karin for your hospitality we would definitely recommend you to everyone and we will definitely be back 
👌🏻
5/5: 
Facebook Page, 29 October 2018: Stayed at the Country House over the weekend and what a delightful experience it was. A beautiful place with such a homely vibe. Thank you to Paul and Karin for making us feel so welcome and for going above and beyond to make sure everything was perfect. We had a delicious 3 course breakfast on Sunday morning cooked by Paul and Karin with all locally grown/sourced produce. I thoroughly enjoyed my stay and can't wait to come back again 
♥️
5/5: Facebook Page, 21 October 2018: Amazing place and services above and beyond expectations thank you soo much will definitely be back
5/5: Facebook Page, 19 October 2018: A luxury B&B with scenic views. Peaceful and relaxing lifestyle. Close to nearby restaurants but isolated enough to forget about everyday life. Paul & Karin are very welcoming and makes you feel like you're part of their family. Would highly recommend.
5/5: TripAdvisor, 16 October 2018: Very personal and hospitable hosts! It wasn't too far from the main street and yet isolated enough to feel like you were worlds apart from all the hustle and bustle of everyday living. Hosts were friendly and accommodating and the food was excellent.
10/10: Booking.com 8 October & 22 October 2018
5/5: Facebook Page, 7 October 2018: Had an awesome weekend stay! So peaceful and beautiful and the suites are enormous. King bed is supremely comfortable. Highly, highly recommend adding dinner to your stay – the food is absolutely sensational!
10/10: TripAdvisor, 6 October 2018: Utterly delightful! My fiancé and I stayed here this weekend over our anniversary as a quick and easy getaway from Brisbane. What a delightful place, we loved it! Firstly, they only have two suites so it's very quiet. The suites are enormous with commanding views, tasteful interiors and seriously plush and fluffy linen in the bathrooms that we loved! The king bed is extremely, supremely comfortable; we have a super comfy king at home but this was even better I think. The bed linen thread count is really high and of excellent quality. Amazing pillows. The food is the next thing…Karin (and Paul maybe? Don't wanted short change his skills either haha!) is the most excellent cook! Highly, highly recommend having dinner here when you stay. Everything is made from scratch and honestly – the tastes and presentation are sensational. We also ordered scones with jam and cream for our arrival and they were delicious and we both commented on how nice it was to have such generous servings of the jam and the cream so you could pile on as much as you want!! The brekkie is superb…it seemed that just about every ingredient was organic and local. From memory we had strawberries from a farm nearby, eggs from down the road, mushrooms from a local farm, local Roma tomatoes, local bacon…you of course can taste the difference for sure! Karin and Paul are such generous and lovely hosts as well. You can tell how much love and hard work they've put into the place. We want to return over summer and laze by the beautiful pool area!! The grounds are private and verdant and extremely well maintained- your own private Eden. Highly recommended!
5/5: Facebook Page, 2 October 2018: My husband and I spent our anniversary weekend here and absolutely loved it! The property and house are both beautiful and Paul & Karin were the best hosts you could ask for. Breakfast each morning was divine and don't bother going out to a restaurant for dinner, you will not find anything that even comes close to what Karin has to offer. We enjoyed her cooking both nights and can honestly say they were some of the best meals we've ever had! Paul knows a lot about the local areas and was very helpful with recommendations for walks and activities during our stay. Thanks so much for a lovely weekend and we can't wait to come back again!
5/5: Facebook Page, 24 September 2018: This has got to be the best Bed & Breakfast we've ever stayed at. Our suite is immaculate and offers everything we could ever need and more. The house itself is breathtaking, set in beautiful grounds and with an impressive pool. Our hosts (fellow Brits) are so welcoming and we are certainly looking forward to winding down and recharging our batteries.
5/5: Facebook Page, 22 September 2018: Stayed at The Country House at Hunchy for my 40th birthday with a group of friends and were spoilt the moment we walked through the door! Had a beautiful home cooked three course dinner of our choosing . The breakfast was amazing. The accommodation was immaculate and the hosts Paul and Karin were the nicest people you'll ever meet. They cannot do enough for you! Returned with the family for hubby's birthday and our wedding anniversary and got the same amazing service. Highly recommend this accommodation whatever the occasion!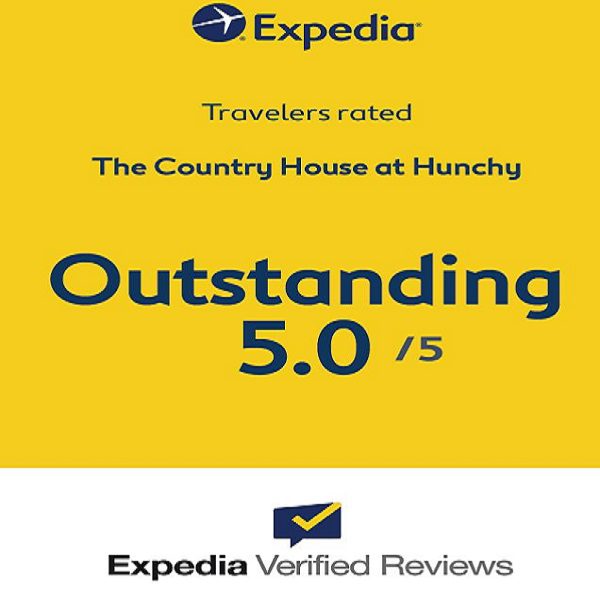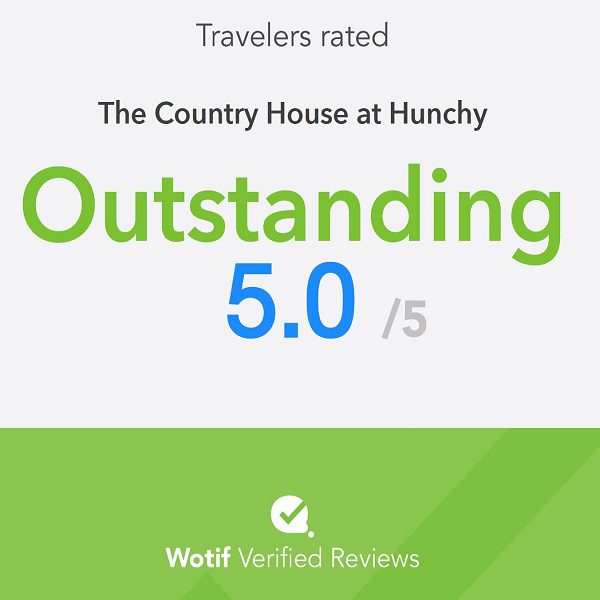 5/5: TripAdvisor, 16 September 2018: Just Perfect. Wow. From the moment we arrived to the moment we left – everything was, well just, WOW! The beautiful location, the fabulous suite and the most amazing views – our wedding anniversary spent at The Country House at Hunchy was absolutely perfect. After reading the reviews prior to our stay, you could say we were a little excited about Karin's breakfast and let's just say, it was even better than we expected!! Wonderful food and wonderful hosts. One night just wasn't enough. We cannot wait to return and we cannot recommend this beautiful B&B enough.
5/5: TripAdvisor, 16 September 2018: WOW WOW What a place. Having stayed in many accommodation places in Australia I would rate Karin & Paul's COUNTRY HOUSE AT HUNCHY as one of the best we have stayed at. B&B? more like an exclusive resort beautiful decor with everything you could possibly need. Clean comfy, fab views from two balconies and great hosts. Make sure when you book to include the delightful breakfast and in house dinner can also be arranged. Hunchy may seem as though it's out of the way but it's definitely not, it is less than 7 minutes by car to Montville and roughly the same to Palmwoods.In the words of Molly Meldrum do yourself a favor and stay at The Country House at Hunchy. Thanks Karin & Paul
5/5: TripAdvisor, 4 September 2018: Lovely quiet place to getaway and de-stress! The Country House at Hunchy is lovely, quiet and relaxing place to stay in and around Montville. The room we stayed in was luxurious and just the ticket to help those city stresses melt away. Karin and Paul were lovely hosts and the dinner that Karin cooked for us on the second night was delicious! Would absolutely recommend the country house as a great place to stay!
10/10: Booking.com, 3 September 2018: Large, airy room. Comfy bed. Quiet location with beautiful trees attracting bird life. Beautiful breakfasts. Recommend eating in for dinner at least once; truly beautiful food, locally sourced and cooked with passion.
10/10: Booking.com, 20 August 2018: Spectacular! We will return and recommend it most certainly! The proprietors were lovely. Karen's breakfast's were spectacular. Everything, including the pastries were homemade. The ingredients were locally sourced and fresh. Paul was quite knowledgeable about the area and very helpful.
5/5: TripAdvisor, 14 August 2018: Hunchy Surprise! My hubby and I stayed at this beautiful bed and breakfast for our Anniversary our hosts Paul and Karin could not be more friendlier and helpful. We stayed in the King Suite it had all the luxuries you could need. The extra touch for me was a bouquet of roses and a hand written card for our Anniversary. Hand made chocolates and Champagne were included also. You must order Karin's home made breakfasts they are so filling you won't need lunch. The respect shown to the wildlife, flora and fauna is a real credit to the hosts, they are members of Land For Wildlife which is a big tick for me. You will not be disappointed staying here it's only a short car trip to the Main Street of Montville, Flaxton and Palmwoods.
5/5: TripAdvisor, 7 August 2018: Best
br
e
akfast ever! 
B&Bs are sometimes let down by the quality of their breakfasts but not The Country House at Hunchy. At this luxury bed and breakfast property near Montville, in the enchanting hinterland of the Sunshine Coast, Karin cooks up splendid three-course breakfasts (and great dinners if pre-ordered). The Country House is a gem in a quiet setting with views to the coast.
10/10: Booking.com, 4 August 2018: Our first B&B experience. An excellent "home away from home". Lovely hosts and exceptional food! This was our first B&B experience and so my husband and I were a little apprehensive. On arrival, we were greeted by Paul and Karin, who are exceptional hosts. Their home is a lovely, modern Queenslander set in an idyllic setting, very close to Montville. Our room was very private, meticulously clean and we were provided with many thoughtful extras, to make our stay very relaxing. Karin is an amazing cook and her breakfasts are the best ever! (3 courses.…..her croissants and pastries are superb) We are going back to experience her dinner menu! A big thank you to Paul and Karin for a very special stay and your warm hospitality. We felt very spoilt and look forward to our next stay with you. You have set the bar very high for other B&B's.
10/10: Booking.com, 23 July 2018: Incredible – will be back :): Paul and Karin are amazing hosts and have an incredible place: Everything was fantastic
5/5: TripAdvisor, 22 July 2018: Spectacular Luxury Getaway! The hosts – Paul & Karin – are extremely kind and accommodating, true spirit of hospitality. The room was pristine and gorgeous, with wonderful hinterland views. The breakfast was provided with a very sweet professional attitude but also personal. The location is incredibly quiet – excellent contrast to city life – yet also very close to Montville shops/restaurants. Overall – left with a sense of serenity and genuine appreciation towards Paul and Karin's efforts. Would definitely recommend to anyone who seeks a high quality hinterland experience.