REVIEWS
Directly below is a live link to Reviews on our Google My Business (Google Maps) Page
Below those Google Reviews are other Reviews published during the last 12 months
The Reviews below have been published recently
You can be assured that all these Guest Reviews and Comments are 100% genuine
You can check the authenticity of these Online Guest Reviews and Comments by visiting the website indicated
BUT don't forget, always Book Direct for the best deal!
5/5: Google My Business Page, July 2022: Fantastic location and a really lovely property. Accomodation at this standard near Montville is as rare as hens teeth
5/5: Google My Business Page, July 2022: Thank you Paul and Karin for your friendly hospitality. The beautiful Rainforest room was so relaxing and attention to detail was greatly appreciated. The premises are extremely clean and all our meals were delicious. The ingredients Karin uses are high quality and she decorates the table wonderfully
5/5: Google My Business Page, June 2022: Always a pleasure staying here. Karin and Paul are always so welcoming and accommodating. My husband and I make an effort to stay here as often as we can. The quiet time away is amazing. The rainforest room is luxurious and comfortable. And the food… oh my gosh, if you stay here you need not go anywhere for food. Make sure you order dinner when you arrange your stay. It's all locally organic sourced fruit and vegetables and meat. And the breakfast is fit for a king. Karin's pastry's are the best. We love staying here
5/5: Tripadvisor, June 2022: A great couple of days. From the minute you turn up at this amazing country BnB you are welcomed by the host Paul and Karin with open arms. The rooms are very comfortable, quiet and secluded with each room having its own privacy. When you eventually wake for breakfast make sure your hungry as Karin cooks up a storm with a different breakfast each day of your stay. If you wish to eat in for dinner they have a large array of food on their menu or you can eat out at one of the restaurants that they recommend. Thank you Paul and Karin for making our stay a wonderful couple of days.
Peter, Abby, Stephen and Christine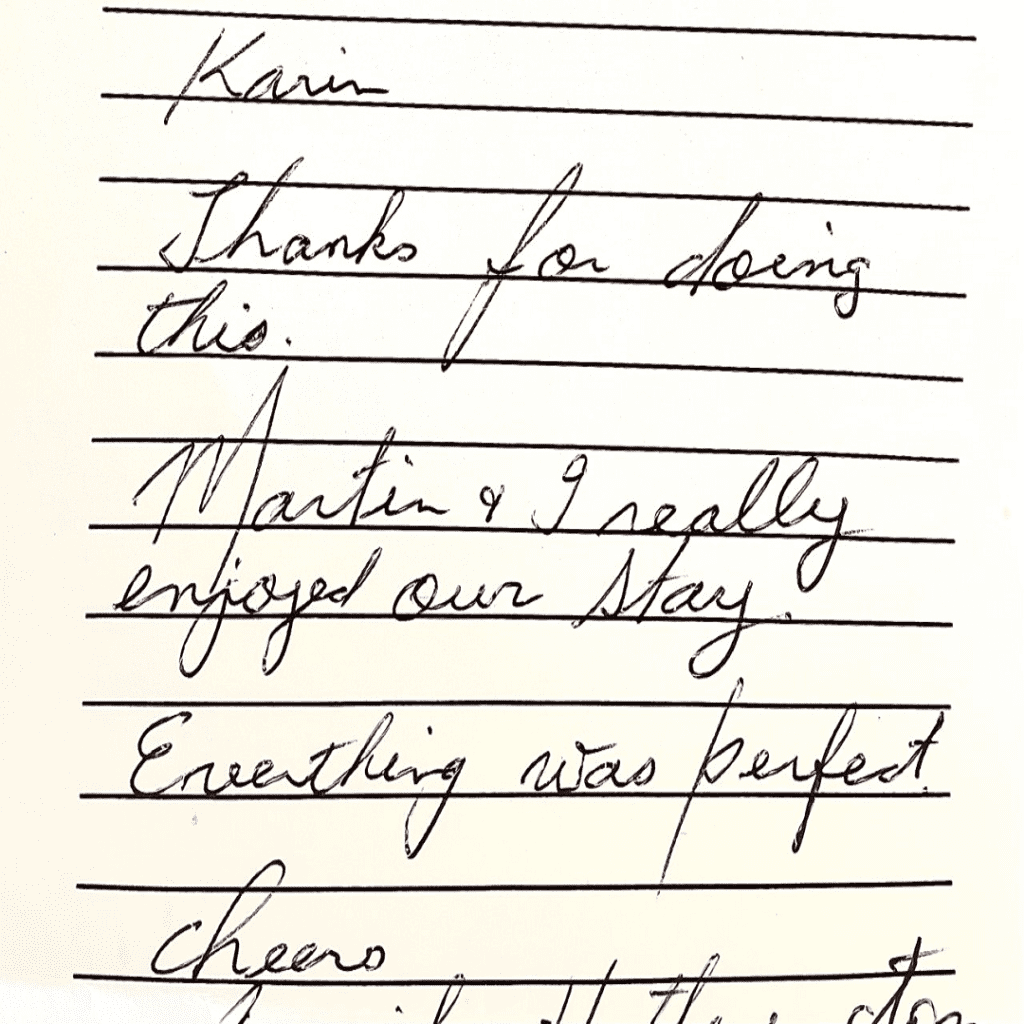 5/5: Google My Business Page, June 2022: A lovely quiet location to chill out, the room was well appointed and very roomy with a comfy bed and large bathroom with a large spa bath. The breakfasts and dinners were delicious and Karin and Paul were very accommodating and eager to please, we can recommend the rib roast dinner with the yorkshire pudding and the lemon tart or dessert, but everything we ordered was truly amazing!
5/5: Google My Business Page, May 2022: Lovely peaceful getaway, meals cooked by management onsite, from scratch using organic locally sourced produce. Totally recommend 🙂
5/5: Google My Business Page, May 2022: This place is amazing. I urge everyone to give this place a try. The attention to detail and cleanliness is above the 5 star rating. You can tell that the owners really care and have immense pride and love what they do. Be sure to take advantage of the food on offer also. Thank you Karin and Paul for making our stay so memorable
10/10: bookingdotcom, May 2022: Location was amazing, very peaceful. Size and comfort of the bed. Large bathroom, living room. The hosts were extremely helpful with local meal options. No negative feedback
10/10: bookingdotcom, May 2022: Very relaxing and a wonderful serene environment. Breakfast was delicious most of the products organic or handmade. Everything was well presented and the property and our suite, indeed everything was spotless and well maintained. Hosts very knowledgeable and accommodating
5/5: Facebook Page, April 2022: We spent three glorious days enjoying the fabulous Country House at Hunchy. Karin and Paul could not do enough for us. From the beautiful roses and gift basket (choc full of beautiful and thoughtful gifts) to the food! Karin is a fabulous cook. (Hint!- DO NOT miss her delicious roast beef and Yorkshire puddings) A three course breakfast every morning. Fabulous fresh fruit, glorious cooked eggs, etc. The meals were all wonderful. The rooms were clean and so comfortable. Spacious, with two areas for sitting to read, listen to music or watch TV. Two beautiful balconies to enjoy both the sunrise and the sunset. We loved everything about it. We can't decide whether to return in Winter to enjoy the communal fireplace or the Summer to enjoy the sparkling pool. We highly recommend it. We will certainly be back- just as soon as we can……. Thankyou, Karin and Paul for a fabulous break.
5/5: Google My Business Page, March 2022: We enjoyed our fabulous time at the Country House. From the moment we arrived Karin & Paul welcomed us into their beautiful Hamptons style home. Our suite was lovely with views of the rainforest off the verandah. Everything little thing is thought of! Breakfast was a three course delight and dinner was equal to any restaurant, Karin is a superb chef! The location is perfect for touring the hinterland and all the local villages. Thank you for a wonderful stay, we thoroughly enjoyed our time there
5/5: Google My Business Page, March 2022: We had a lovely stay in the Bottlebrush Suite for one night. The room was big, modern and well furnished, and the homestead is beautiful and rich with history. It is very tranquil and quiet, with an undercover car park included with the room. All of our needs were met during our short stay. The breakfast the next morning was sensational, with meals made with local produce. The food was fresh and very tasty. Thank you Paul and Karin for your wonderful hospitality and friendly nature, we will be sure to stay again for at least several nights next time we are in the Sunshine Coast. Highly recommended if you're staying in the Hinterland, or even anywhere in the Sunshine Coast!
10/10: bookingdotcom, February 2022: Perfect hosts Paul & Karin, attention to detail to make your stay memorable, very professional and design and decor. If anyone complains about this place, you have a problem
5/5: Google My Business Page, February 2022: When we arrived we were met by Karin who gave us a tour of the luxury accommodation and it was amazing. The dinners and breakfast's were amazing 5 star as was the service that both Paul & Karin gave. If you want a trip away to relax this is the place to go.
5/5: Facebook Page, January 2022: Fabulously friendly hosts, excellent food, comfortable bed and beautiful, serene surroundings. This was my first visit and I'll be back again. Thanks so much for a wonderful stay, Karin and Paul!
5/5: Facebook Page, January 2022: A big thank you to Karin & Paul, for making our 25th Anniversary very special for us & organising Roses. Your food was so delicious with local produce served. What a beautiful retreat, we highly recommend staying here
10/10: bookingdotcom, January 2022: Perfect getaway for any couple. Beautiful breakfast with fresh local produce. Nice bottle of wine on arrival. Evening optional dine in meal is terrific with locally sourced produce
10/10: bookingdotcom, January 2022: A beautiful getaway from normal life. Such genuine hosts and the facilities were amazing!
5/5: Google My Business Page, January 2022: The Country House At Hunchy is the best place we have stayed in all our travels in Australia and beyond. Karin & Paul are exceptional hosts in every way. The Breakfast, High Tea, Evening meal are prepared with loving care and attention to detail every time we stay. We return every year on our anniversary and wouldn't go anywhere else!
10/10: bookingdotcom, January 2022: The property is located in an extremely quiet area, it made us feel disconnected from the world for a couple of days and had the most relaxing stay. The room was super clean! We spent a lot of time sitting on the balcony, looking out through the rainforest vegetation in front of our room. The breakfast was spectacular and super fresh! We were also able to charge our EV on site, which is always an added bonus. Definitely recommended if you are looking to take some time off and unwind in the beautiful Sunshine Coast hinterland.
10/10: bookingdotcom, December 2021: The place was beautiful and staff so friendly. Breakfast was wonderful
5/5: Google My Business Page, November 2021: We booked a very special 3 day stay at this beautiful property for our 50th Wedding Anniversary. We have always loved that particular area but wanted something extra special. Well, we found it!!! From beginning to end our experience was fantastic. Karin and Paul welcomed us into their gorgeous house (which is also their home) and we walked into the Rainforest Suite and gasped at the view from our bedroom onto the trees and hills far away. The Suite was beautifully appointed with comfy King bed, plenty of seating and everything we could need for our staycation. On the table were a vase of golden roses to greet us and that made our stay even more special. We had an amazing dinner on the first night and the Roast Beef and Yorkshires were delicious as well as the desserts. The breakfasts each day were outstanding and set us up for the day. I cant say enough about this fantastic place and very happy to recommend it to any couple who like peace and quiet, comfort and great food
10/10: bookingdotcom, November 2021: The most luxurious and beautiful B&B I've ever experienced. Me and my wife stayed here during our honeymoon, it was magical. We booked the Bottlebrush Suite premium luxury package, which included the 3 course breakfast. Karin's cooking was amazing! Just a heads up to people planning to get this package and reading my review, the breakfast portions are huge. Its more like a Brunch! Haha. This is coming from me who loves eating in "All you can eat buffets". We also had a 3 course dinner, a high tea, and a seafood platter. The portions were huge, and tasted amazing! And the prices are pretty good for what you get. We always had left-overs put in take-away bags to take back to our room haha. Our stay here was amazing, the place exceeded all our expections. When we saw the photos from Booking.com and Google before booking this place, me and my wife said " Oh the place looks pretty and nice". But when we saw it in person, we were like "Whoaaaa! This place is sooo beautiful!". The room's beautiful, neat, smells amazing. The bathroom' very nice. The views, the service, the whole experience was just magical. Paul and Karin were so nice and accomodating during our stay. If you want a change of scenery from the city life, this is definitely the #1 place to be. If i could, I'd rate this place 1000/10. It's Close to Montville, Maleny and Kenilworth – They have award-winning cheeses. Highly recommend their Haloumi and Triple Brie. So good.There was nothing to not like about this place. Its perfect
5/5: Google My Business Page: Where do I even start! My husband and I stayed here for a week as part of our honeymoon, and the second we walked into our suite, we were blown away by how beautiful it was! We also had a 3 course breakfast everyday, a 3 course dinner 1 night, a seafood platter, and a high tea, and let me just say, if you stay here, you will NEVER go hungry! 😂 We were so full after breakfast each day, but the food was all so delicious, and Paul and Karin are the loveliest people you'll ever meet, always making sure we were happy and comfortable during our whole stay. The view from the suites are beautiful too, as you're surrounded by lots of trees and greenery, and you just feel so relaxed. Whether you stay here for a week like we did, or whether it's you just stay for the weekend, I guarantee you won't be disappointed! 😊
10/10: bookingdotcom, October 2021: Fantastic value. The property is beautifully presented. It feels very exclusive as described. There are only two suites so you rarely see another guest. Paul and Karin the owners are lovely. Karin is an amazing cook. The 3 course breakfast is extremely good value. We didn't eat lunch our entire trip. I highly recommend having one of her fantastic dinners one night also. You will not regret going here to stay. 10/10
5/5: Tripadvisor, October 2021: Perfect place for milestone celebration. We chose HCH for our 25th anniversary due to COVID restricting our Plan A. We now have a new Plan A for special occasions! HCH is the perfect couples getaway with all Montville and the hinterland has to offer. We actually chose to do not much except enjoy the beautiful surroundings, yummy food and relax. Our batteries are charged, our tummies are full and we have a wonderful memory to look back on. Thanks Karin and Paul
5/5: Tripadvisor, October 2021: No ordinary B&B! The Country House is extra special in every department. The spacious accommodation in a lovely rainforest setting, the delicious food and the delightful hosts combine to make a stay here extra special. Karin and Paul focus on the needs of their guests throughout your stay without interrupting your private experience. Karin's food is fantastic right from the beautifully crafted varied breakfasts to the dinner options. My dinner favourites were the cold seafood platter, the roast beef with Yorkshire pudding and the antipasto platter. All memorable. Four days was not long enough.
5/5: Google My Business Page, October 2021: We had a fantastic stay away from the hustle and bustle of our Gold Coast life, and stayed in the Rainforest Suite. Paul and Karin gave just the right amount of interaction, and the breakfast Karin cooked was superb! We wished we had read the emails/online a bit better, as we opted not to eat in at dinner, but then discovered the possible menu items once we had declined!! However, the local restaurants we ate at in nearby Montville were also good. Thanks for a delightful stay, we will surely be back again
10/10: bookingdotcom, October 2021: A great escape. Beautiful surroundings, peaceful location, great hosts. Amazing room great views cannot fault this place. The food was divine and just a great place to getaway from the craziness of life.
5/5: Tripadvisor, September 2021: An awesome farewell gift from work colleagues!A group of work colleagues treated me to a gift voucher for The Country House at Hunchy when I was farewelled. I decided to save it up for my husband and my wedding anniversary and what a great choice for a special event. The natural environment is very beautiful and the suite we stayed in was spacious and tastefully decorated. Karin and Paul are the consummate hosts in every way and every little thing has been thought of. The food was to die for and Karin's skills, knowledge and presentation are right up there with the best. We loved learning about all the local producers she sources her ingredients from and will be paying them all a visit in future. I highly recommend this place and am so grateful to my former team for contributing to this awesome gift.
5/5: Tripadvisor, September 2021: Wonderful hospitality. The hosts of this property were very accommodating. The food was simply divine. Very clean and spacious rooms and a nice little tucked away B&B. Would definitely recommend to family & friends and sure will go back
5/5: Google My Business Page, September 2021: We had our wedding at Australia Zoo and stayed in this Country House Bottlebrush room. It was a bit far but the drive was worth it. The place is really clean, spacious and feels really homey and relaxing. There are a lot of inclusions as well and the view is amazing. It was the perfect place to stay for any occasions especially if you want to relax and escape from the city buzz. Karin made us a big breakfast in the morning which is divine. I am so excited for our next stay to this country house. Thank you so much again Paul and Karin
10/10: bookingdotcom, September 2021: Home away from home. Amazing hosts. Incredible breakfast . Very clean comfortable relaxing quiet
5/5: Tripadvisor, September 2021: Very tucked away, perfect for those looking to escape for a weekend. We thoroughly enjoyed our stay at The Country House at Hunchy, opting for the premium luxury package for 3 nights. The package included a 3-course breakfast each day which was superb, and Karen is more than happy to change out one or more ingredients to suit, and/or adjust portion sizes according to your needs.On our last evening we chose the in-house meal option (a couple of days' notice needed as all the ingredients are freshly sourced) which was excellent, and topped off very nicely by the fresh trifle which was delicious. The accommodation is super clean & tidy and quite spacious, and the fact that there are only 2 suites adds to that feeling of exclusivity. If I had one slight negative it would be the slow wifi – Karen did inform us of this as part of check-in but it would have been nice to be able to use a streaming service like Netflix etc during our stay. On balance though, would highly recommend this place to anyone looking for a Sunshine Coast getaway with a luxury feel.
5/5: Google My Business Page, September 2021: We had this place for our wedding accommodation. It was a really lovely stay. Stunning view. The suite is big and luxurious. Paul and Karin are great hosts too. And to top it all, food is really good. Can't wait to come back there and relax.
10/10: bookingdotcom, August 2021: Just stay here! You won't regret it. If anyone is wondering if they should stay here the answer is yes, Karin and Paul were extremely welcoming and their accomodation is beautiful. The rooms are massive and the tub is wonderful. Everything was spotless and the property is so peaceful and beautifully maintained. The photos don't do this place justice
5/5: Facebook Page, August 2021: Time to say goodbye – thanks to Karin and Paul for truly looking after us for 2 days during our mid week getaway – great accommodation, location, amazing food and service!! Hats off to you both …enjoy your bit of paradise – we will be back
Spacious rooms. Quiet rooms. Thoughtful amenities
5/5: Google My Business Page, August 2021: Excellent B & B with amazing service, food and attention to detail. Paul & Karin are lovely, caring hosts, gorgeous gardens and 5 star luxurious accommodation. We will be back, thank you
5/5: Google My Business Page, August 2021: Incredible food, beautiful rooms, so clean, lovely country hospitality. Can't recommend this highly enough. The hosts are so friendly and knowledgeable of the area. We will definitely be back when we can. Thanks for spoiling us and making us feel so special
5/5: Tripadvisor, July 2021: Fantastic can't wait to go back. My partner and I did the 2 night luxury romantic hinterland rainforest escape, I can't recommend it highly enough. Paul and Karin's hospitality is first rate and Karin's cooking is like what you'd find in a fine dining restaurant. All the food was exceptional and in generous servings. The rooms are huge with high ceilings and the bed very comfortable. There is only one other room so at most there will only be two other guests on site. The in room massages were also excellent. We had a wonderful time and will definitely be back!
5/5: Google My Business Page, July 2021: Excellent B & B with amazing service, food and attention to detail. Paul & Karin are lovely, caring hosts, gorgeous gardens and 5 star luxurious accommodation. We will be back, thank you
5/5: Google My Business Page, July 2021: Great place to stay and amazing food
5/5: Google My Business Page, July 2021: Such a wonderful experience. The rooms are very large and luxurious. In room massages were definitely a highlight as well as the beautiful meals made by Karin and the high-tea. Could not have had a better weekend away and we are already looking forward to visiting again. Highly recommend!!
END OF REVIEWS