Scroll down for all our Dining In Menus & everything you need to know about eating in at The Country House at Hunchy including photos and even some videos!
First is our Breakfast Menu, then our A La Carte Menu, our Everyday Casual Menu and finally our Vegetarian and Vegan Menu
Karin's proficiency as a Home Cook results in delectable dishes with her specialities being Traditional Yorkshire and German fare. In particular those with homemade pastry as a fundamental component
So watch for her Home Cook's Specials such as Traditional Roast Beef and Homemade Yorkshire Puddings, Roast Pork with Red Cabbage, Lemon Tart, Homemade Trifle, Apple Pie and Apple Crumble to name but a few
But her Asian cuisine dishes are also highly recommended by previous Guests as are her Seafood delights. Just check out our Guest Comments page. And there is a good reason we offer Vegetarian and Vegan Menu options, those dishes are just divine!
In other words, no matter your dietary tastes, needs or preferences, you can have confidence you will thoroughly enjoy every Meal at The Country House at Hunchy!
Small Groups Dining In Menu
We have a specific Small Groups Menu if all our Guests are travelling as a Group and plan to dine together
This offers the same choices as our A La Carte and Everyday Casual Menus but the number of different dishes which can be ordered is limited to maintain our high quality standards
Please ask us for details
Only Fresh Local Organic Free Range Produce
All produce is locally sourced and freshly purchased from organic, free range growers and suppliers for each meal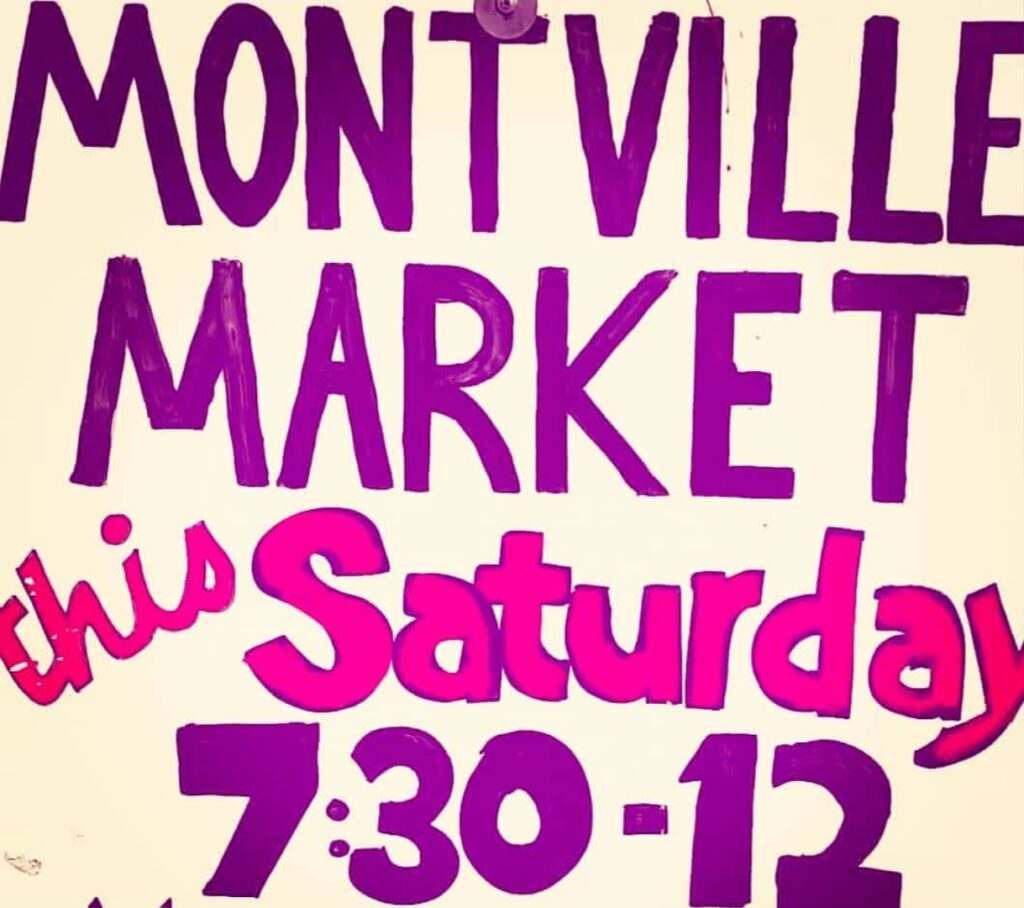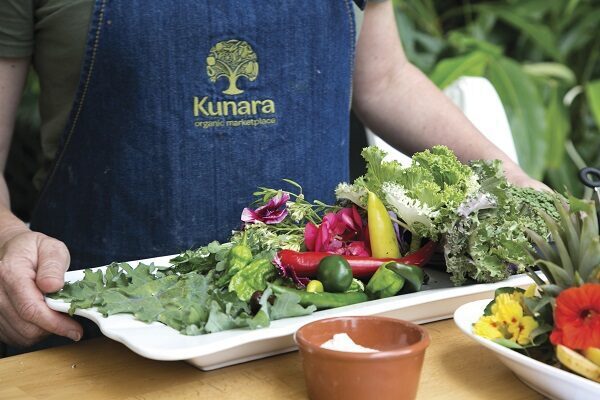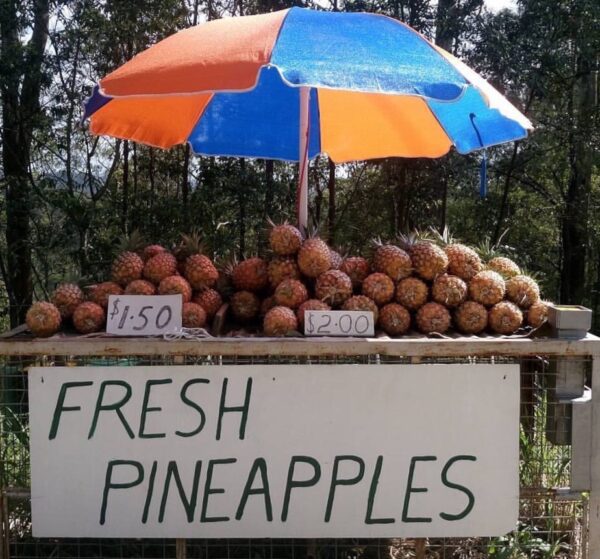 So please notify us of your Menu selections soon as you can, ideally at least a week before and no less than 4 days prior to arrival to avoid disappointment
What time is Breakfast and Dinner?
For practical purposes, Breakfast is best served in our Guest Dining Room at 8 am, 8.30 am or 9 am
We stagger Breakfast service times
You can order other Meals to be served in our Guest Dining Room or in your Suite at no extra cost
Dinner is usually served at 6 pm, 6.30 pm or 7 pm
What will happen to access to your Guest Dining Room from 17 December 2021 when unvaccinated Guests are not allowed access to Guest common areas?
When we send you your booking confirmation email there will be an explanation about the requirements of current Chief Health Officer Directions which may impact our business
Meanwhile please click here to see our home page for a summary of current requirements and here is a link to our COVID Safety Information page
What if we have some Dietary Needs or Preferences?
We cater for all dietary needs and preferences, please see our Vegan and Vegetarian Menu below
Please call Karin direct on 0419 421 222 to discuss any personal menu preferences and specific dietary requirements
Or you can chat with us direct about your dietary needs and preferences
Just click on the Messenger symbol usually in the bottom right of your screen
Dining In Menus – Public Holidays
Our Dining In Menus can change over some Public Holiday periods
If your stay is during a public holiday or public holiday weekend please call Karin or chat with us direct to discuss your additional in-house meals needs
Please note we do apply a public holiday surcharge to our menu prices
Welcome Bottle of Wine, Wines To Purchase & BYO
Guests choosing our Premium Luxury Package receive a long list of complimentary in-suite refreshments including a welcome bottle of sparkling, red or white wine!
We also have a limited choice of sparkling, red & white wines, spirits, beers & soft drinks to purchase or Bring Your Own (BYO) – there is no corkage charge
Can I have the Recipe for my favourite dish during our stay?
Many Guests ask us for recipes for their favourite dish during their stay
The short answer is YES! Just ask us
Some recipes are available by clicking here – remind yourself to revisit every now and again as we add to them regularly
OUR DINING IN MENUS
FIRST UP ARE OUR BREAKFAST MENUS
Individual dietary needs can be catered for at no additional cost but please give us plenty of advanced notice
THE COUNTRY HOUSE BREAKFAST
Our renowned sumptuous Breakfast is included in our Premium Luxury Package and designed to be different each day during your stay, see the examples below
Breakfast is served in our Guest Dining Room at 8am, 8.30am or 9am
Day 1:
Fresh Fruit Salad, Creamy Yogurt, Fruit Smoothie, Freshly Squeezed Orange Juice
Poached Eggs, Toast, Bacon, Mushrooms, Tomatoes
Freshly Baked Croissants & Pastries, Butter & Home Made Jams
Unlimited Tea or Coffee
Day 2:
Homemade Muesli topped with Berries, Freshly Squeezed Orange Juice
Creamy Scrambled Eggs, Toast, Organic Chicken Sausage, Avocado, Mushrooms
Freshly Baked Croissants & Pastries, Butter & Home Made Jams
Unlimited Tea or Coffee
Day 3:
Yogurt & Granola with Fruits, Freshly Squeezed Orange Juice
Omelette with Ham, Capsicum & Mushrooms, Fresh Tomato Salsa
Freshly Baked Croissants & Pastries, Butter & Home Made Jams
Unlimited Tea or Coffee
(Additional sides are $3.00 each, e.g. Chicken Sausage, Avocado, Baked Beans)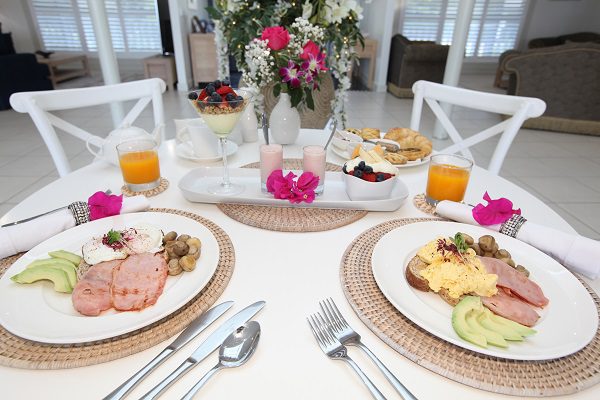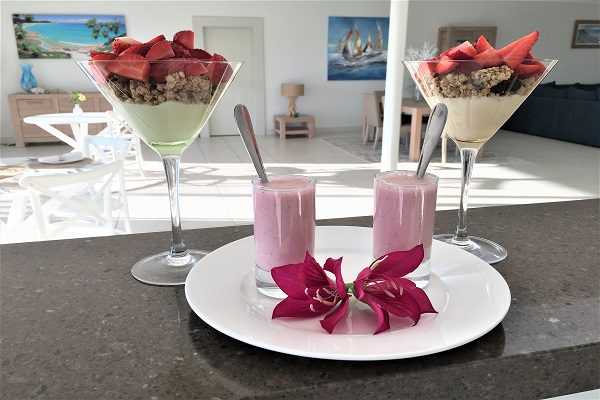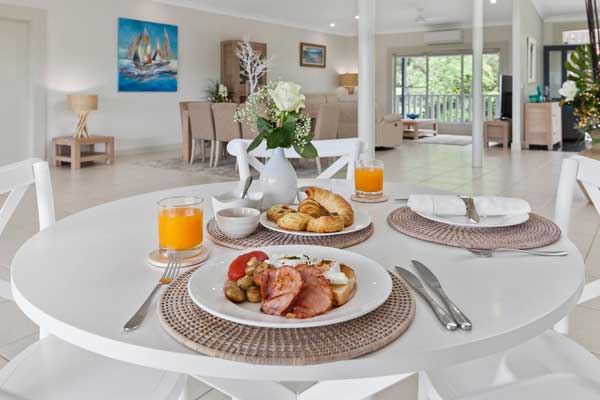 ATTENTION LUXURY ACCOMMODATION ONLY (ROOM ONLY) GUESTS!
BREAKFAST IS NOT INCLUDED FOR YOU
IF YOU LATER DECIDE YOU WOULD LIKE TO SAMPLE OUR TERRIFIC HOMEMADE BREAKFAST JUST BOOK YOUR MENU SELECTIONS DIRECT WITH US!
Option 1
$45 per person
The Country House 3 Course Breakfast
(the full breakfast menu as above):
Option 2
$20 per person
Fresh Fruit Salad
Creamy Yogurt
Fruit Smoothie
Freshly Squeezed Orange Juice
Unlimited Tea or Coffee
Option 3
$25 per person
Poached Eggs (or Scrambled)
Bacon (or Chicken Sausage*)
Mushrooms (or Avocado*)
Tomatoes (or Baked Beans*)
Toast & Unlimited Tea or Coffee
* = As additional sides the cost is $3.00 each
Add Freshly Squeezed Orange Juice for $3.00 per person
Option 4
$18 per person
Freshly Baked Croissants & Pastries
Butter & Home Made Jams
Unlimited Tea or Coffee
Add Freshly Squeezed Orange Juice for $3.00 per person
Individual dietary needs can be catered for at no additional cost provided we are given advance notice
OUR DINING IN MENUS
HERE ARE OUR DINING IN A LA CARTE AND EVERYDAY CASUAL MENUS
All produce is fresh purchased and locally sourced from organic growers and suppliers
So please notify us of your Menu item selections as soon as you can & at least 4 days prior to arrival
You can book Dinner to be served in your Suite or in our Dining Room at 6 pm, 6.30 pm or 7 pm
A LA CARTE DINING IN MENU
$70 per person for 2 courses, $80 per person for 3 courses
Starters:
Moreton Bay Bug or Prawns with Angel Hair Pasta in a Creamy White Wine & Garlic Sauce (As a Main Course add $10)
Caramelised Onion and Goat's Cheese Tart v, GF available
Mooloolaba Prawn Stack with Avocado GF
Crab & Corn Soup or Soup of the Day GF
Haloumi & Asparagus Salad v
Goats Cheese & Sweet Capsicum Salad v, GF
Bruschetta (Roma Tomatoes/Red Onion/Basil & Buffalo Mozzarella) GF available
Mains:
Organic Free Range Chicken Breast with Honey Mustard Sauce or Chasseur Sauce
Organic Grass Fed Beef Fillet with a choice of sauces: Mushroom or Dianne or Red Wine Jus GF
Premium Fish (from selections available locally) GF
Slow Cooked Lamb Shanks in Red Wine & Caramelised Onion Sauce
Slow Cooked Coq Au Vin with Sour Cream Mash
Organic Free Range 'Chicken a la Normande' for 2 GF
(Whole quartered organic free range chicken oven baked with cider/apple/bacon/mustard & cream)
Roast Organic Free Range Lamb or Pork or Chicken (Minimum for 2) GF
Roast Grass Fed Beef with Karin's Homemade Yorkshire Puddings (Minimum for 2): here is a Traditional Yorkshire Dish by a Traditional Yorkshire Cook
Grass Fed Beef Goulash GF
Chicken/Prawn/Vegetable Yellow or Red Thai Curry (Mild) with Rice GF
All Mains are served with potato and vegetables or salad unless otherwise stated
Desserts:
Cheesecake (seasonal variations)
Apple Pie or Crumble v
Lemon Tart v
Karin's Trifle (seasonal variations)
Chocolate Mousse
Fruit Tart
Ricotta & Mascarpone Tart with Roasted Pears or Peaches when in season v
Chocolate Fudge Cake GF option
OUR DINING IN MENUS
Here is our Everyday Casual Dining In Menu
Everything served is Home Made using only the best seasonal local organic produce
You can arrange for your Meal to be served in your Suite or the Dining Room
Decadent Cold Seafood Platter for 2
Crab, Bugs, Prawns, Smoked Salmon, Oysters including Breads and Salad
GF option available
$165
Antipasto Platter for 2 with Bread – Olives – Pickles
GF option available
$65
Cheese Platter for 2 with Fruit – Bread – Crackers
v, GF option available
$65
Fruit Platter for 2
v, GF
$40
Yorkshire Ploughman's Lunch Platter for 2
(or a very hungry 1!)
Crusty Baguette, Local Kenilworth Mature Cheddar Cheese, Local Organic Ham, Wensley's Pork Pie, Australian Pickled Onions and Original Branston Pickle
$45
Quiche with Salad & Coleslaw for 2
v options
$50
Lasagne with Salad for 2
(Garlic Bread add $5)
$60
Soup of the Day with Crusty Bread
$18 pp
Organic Chicken Breast Schnitzel & Coleslaw & Fries
$35 pp
Karin's Homemade Burger & Fries
(Served on a Burger Bun with Salad/Cheese/Beetroot)
$30 pp
Karin's Homemade Pies
(Chicken & Mushroom/Chicken & Leek/Beef)
(Served with Fries/Potatoes/Veggies)
$38 pp
Butter Chicken
(Served with Rice/Poppadoms/Mango Chutney)
$38 pp
(Naan Bread add $5)
Chicken or Vegetable Korma Curry
(Served with Rice/Poppadoms/Mango Chutney)
$38 pp
(Naan Bread add $5)
DESSERTS
Please see the A La Carte Menu above for Dessert options
Dessert Prices start from $15
Please note, with our Everyday Casual Dining Menu, Desserts cannot be ordered alone so can only be ordered with a Main Meal
High Tea with a Glass of Sparkling Wine
Minimum 2 Persons
$60 per person
Please see the separate High Tea Menu
Afternoon Tea
Minimum 2 persons
$35 per person
Freshly Baked Scones with Jam & Cream for 2
$18
Luxury Picnic Basket for 2
To enjoy by the Pool, in our Rainforest Gardens or at a local Beauty Spot
Prices start from $65
($80 including a Bottle of Wine)
Contents are individualised to suit
OUR DINING IN MENUS
HERE IS OUR VEGAN/VEGETARIAN DINING IN MENU
2 Courses From $70, 3 Courses From $80
Starters:
Avocado/Tomato/Red Onion & Basil Bruschetta
Zucchini Fritters & Salad
Tofu & Super Vegetable Salad
Goats Cheese & Sweet Capsicum Salad
Potato Bowl with Capsicum/Black Beans/Spinach & Avo
Soup of the Day
Mains:
One Pan Vegan Paella
'Chicken Like' Fried Rice
Mushroom Stroganoff
Vegan Bolognaise
Mushroom & Broccolini Spaghetti
Creamy Primavera Pasta
Vegetable Red or Yellow Thai Curry
Vegetable Korma Curry
Mushroom & Lentil Ragu
Desserts:
Please see the A La Carte Menu for Vegetarian Dessert Options
Vegan Coconut Pudding with Pineapple Brulee
Beetroot Red Velvet Cake with Coconut Frosting
Vegan Cake/Dessert Plate for 2
Click Here for our Contact Us Page
You can also chat with us direct about your dietary needs and preferences
Just click on the Messenger symbol usually in the bottom right of your screen