A Slice of Baroon's History gives us a small snippet about the cultural importance of the Blackall Range, where the villages of Maleny, Montville, Flaxton and Mapleton now stand, to the Traditional Owners
A Slice of Baroon's History: Early Records of Baroon – pre European settlement of Maleny and Montville
Long before the now well-known hinterland town names such as Maleny, Montville and Mapleton there was Boorum (Baroon). Records of its significance can be found in early reports of white settlement, this is just one.
Tom Petrie's Reminiscences of early Queensland dating from 1837
In 1845, Tom Petrie, then 14, attended the Baroon Bunya Festival (Bonyi Bonyi) at Baroon Pocket. Tom arrived in Brisbane in 1837 when his father, Andrew Petrie, was appointed Engineer of Works at the small Penal Settlement of about ten buildings. From early childhood, Tom spent time with the Aborigines around Brisbane and learned their language fluently. He spoke Undumbi, a dialect of the Gubbi Gubbi or Kabi Kabi language group.
Tom travelled from Brisbane to Baroon with a group of 100 Aborigines. In the afternoon of the fourth day of their journey the party camped at the creek near Mooloolah. According to historian F.P. Woolston, the Aborigines and Petrie came up from Mooloolah along one of the ridges which rise up and ends under the crest of the Range. They then went down the track, which is now an extension of Mill Hill Road.
The Aborigines would gather in Baroon when they first arrived at the Blackall Range. Petrie saw between 600 and 700 Aborigines at Baroon. He is the only person to record the Bunya Festival in detail.
The Bunya Proclamation of 1842 did not attempt to define land boundaries and as a consequence, created an intentional but un-administered Aboriginal reserve just as land elsewhere was being taken up for farming.
Following Queensland's separation from New South Wales in 1859, the Bunya Proclamation was repealed in 1860 to enable the passing of the Unoccupied Crown Lands Occupation Act 1860. The dispossession of Aboriginal people in this area began in earnest. Land squatting, selection and timber licences were soon issued for the land that had once been sacred to the Aboriginal people.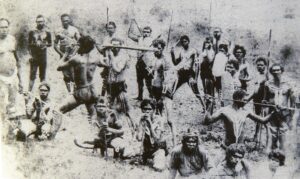 An 1880s gathering at Bridge Creek which joins the Obi Obi at Baroon Pocket
With the interruption and prevention of traditional use of these natural resources the Aboriginal population soon dwindled. Deaths from introduced diseases, shootings, poisonings, conflicts with settlers and starvation from not being allowed to hunt and gather traditional food all took their toll. Traditions and lifestyles, which had remained unchanged for many thousands of years before European settlement, were altered forever.
Under a Queensland Act of Parliament (1897) and subsequent legislation, most of those who survived were forcibly moved to missions such as Barambah (renamed Cherbourg), Yarrabah (near Cairns), Palm Island (near Townsville) and Deebing Creek (near Ipswich). Here they were confined and used as labourers and domestic servants
Amendments to the Act, removing restrictions came too late because by then the local tribes had been decimated.
Few Aboriginal descendants have returned to the Blackall Range. However, those that have, proudly uphold their cultural traditions and acknowledge the traditional role of the Bonyi Bonyi at Baroon with contemporary celebrations of Bunya Dreaming
A Slice of Baroon's History
References and Acknowledgements
Woolston, Frank. (1983) 'Early European Visitors to Baroon Pocket' unpublished article written for Montville Historical Group
Woolston, Frank. (1989) 'Early European Visitors to Baroon Pocket' in The Range News pps 20-21
Maleny and District Centenary Committee. (1978). By Obi Obi Waters: stories and photographs of early settlement in the Maleny district, Blackall Range, south eastern Queensland. Maleny, Q: Maleny and District Centenary Committee
Petrie, Tom & Petrie, Constance Campbell, 1873-1926 (2013). Tom Petrie's reminiscences of early Queensland: (dating from 1837) (Queensland classic edition). Salisbury, Brisbane Watson Ferguson & Company
Photo:
1880s Gathering: Stan Tutt. (1986) Sunshine Coast Heritage, Vol 1, p.81, Melbourne, Craftsman Publishing
Remember to Book Direct for the best price and best deal
We acknowledge the Sunshine Coast Country, home of the Kabi Kabi peoples and the Jinibara peoples, the Traditional Custodians, whose lands and waters we all now share
We wish to pay respect to their Elders – past, present and emerging and acknowledge the important role First Nations people continue to play within the Sunshine Coast community