Blogs
Here is where you will find links to our Blogs which we will add to from time to time
What do we mean by Blogs? Why add them?
They are informative articles about our Property, our Backyard (the Sunshine Coast Hinterland especially the Blackall Range) and our Region (the Sunshine Coast)
The Context
The first inhabitants of the Sunshine Coast were the people of the Gubbi Gubbi (Kabi Kabi) language group whose ancestors came to the region as far back as 30,000 years
When explorers came to the district they observed their Indigenous neighbours and considered them some of the healthiest Aborigines ever seen due to the abundant local food sources
The Gubbi Gubbi language group comprised of four main clans which were the Undanbi (or Undumbi), Nalbo, Dulingbara and Gubbi Gubbi peoples
The first sightings and observations in the district were recorded by explorers occurred on 17 May 1770, when botanist Joseph Banks who was on board Lieutenant James Cook's H. M. Bark Endeavour observed water of a different colour discharging south into the ocean
This waterway was later to become known as Pumicestone Passage. Cook too observed the unusual surroundings in the district close by, noting the prominent hills and calling them the Glass Houses
These 'prominent hills' reminded Lieutenant Cook of the glass making furnaces in Cook's native homeland around Yorkshire, England
He described their location in his log so as to guide future explorers to these conspicuous landmarks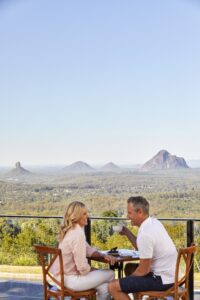 The articles are designed to help readers understand what they can expect when they are planning to visit and stay
In other words, the articles are an aid to readers understanding the context and experiences awaiting them!
If you think we can add an article about a particular subject which you think will add to the reader's experience please let us know
Here is a link to our Home Page
The link above takes you to the main page of our website
Check Accommodation Availability Here
Using this link you can check accommodation availability by just entering dates
Or if you have already checked availability you can go to the secure Book Direct page to make a booking using this link